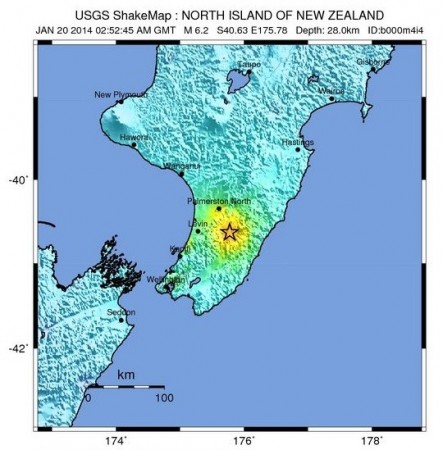 A strong earthquake measuring 6.2 on the Richter scale jolted New Zealand on Monday, rattling buildings and disturbing transportation services. There are no reports of loss of lives and serious injuries so far.
The tremor struck at 02:52:45 UTC (08:22 am IST) near Palmerston North at a depth of 28.0 km (17.4 miles) on Monday according to United States Geological Survey (USGS). It was centred in the North Island of New Zealand, about 115 km northeast of Wellington with the shock being felt throughout the North and South islands.
According to a report by The New Zealand Herald, a three-storey building on Queen St, Masterton had sustained unspecified damage in the quake. It added that three 1920s-style buildings had been evacuated as a precautionary measure.
"There's no serious injuries or deaths over there, but they got a very severe jolt. It has caused some isolated damage with stuff coming off shelves and things like that,'' The New Zealand Herald quoted Wellington Region Emergency Management group controller Bruce Pepperell.
"My baby daughter was in her cot asleep and I managed to leap across the hall and grab her and leap outside onto the lawn,'' Karen Monk, who is on a farm in Mauriceville, told the daily.
"It was certainly the biggest we've had since we've been here. It was really sudden. Usually the earthquakes we feel up here, whether they're from north or south, they're more rolling and you start start with a gentle shake. This one just came with a bang, with massive jolting.''
Wairarapa and Palmerston North areas reported most damages that include wall toppling and damage to roads and buildings.
"The earthquake has been reasonably major in the Masterton-Eketahuna area, so we're getting multiple calls to all sorts of things at the moment, but we're right in the middle of it now,'' Fire Service central communications shift manager Mike Wanoa said.
"Obviously some houses have been damaged,'' Inspector Mike Coleman of police central communications added. "Windows have been smashed and crockery has been thrown around the place - the usual sort of movement with earthquakes.''
The region felt multiple aftershocks after the strong tremor and more are expected to follow for sometime.
However, there were no damages reported in the Wellington region.