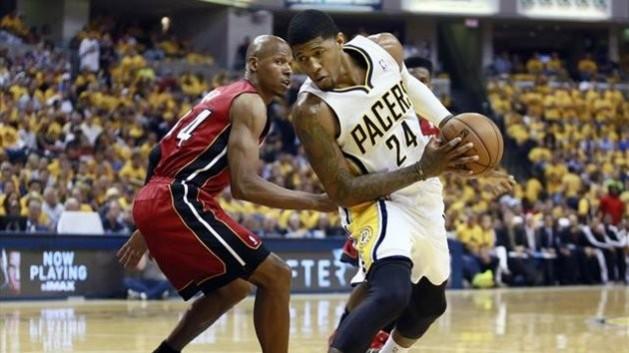 And so it has emerged that Dwyane Wade and Ludacris may not be the only ones with a secret baby on the way. Indiana Pacer's Paul George also seems to have landed himself in a soup, as reports are fast emerging that the 23-year-old NBA star got a stripper pregnant, and then tried to pay her off $1 million for an abortion, which she declined.
Several news sources have confirmed the report, while Baller Alert further revealed: "Daniela, a stripper/model from Miami, is roughly 7 months pregnant with Paul George's baby."
The report gained more credibility after pictures of the stripper were leaked on Twitter. Reports on the same have gone viral now. The Sports World News stated: "Daniela appears to have turned down George's offer, and has instead begun uploading pictures of herself and her pregnant body."
Things could not have got more messy for George, who is currently dating Callie Rivers, the daughter of Los Angeles Clippers head coach Doc Rivers and sister of New Orleans Pelicans star Austin Rivers. But reports of George fathering a child with a stripper could severely hurt his relationship with Callie.
The news is being met with much sadness as George was touted as the next big league player, who could drive the Pacers into major victories in the 2014 NBA season.
Fans reacted with anger and disbelief over the scandal.
Reactions of Paul George fans on Twitter
Paul George my dog. I hate it had to be him.

— Bell Bibs DeVoe (@MBibs) February 6, 2014
Paul George is a dog, dating Doc Rivers daughter but knocked up a stripper — Alex Arnold (@alexxarnold) February 5, 2014
George met Daniela on a yacht party in the summer, reported Black Spots Online.
So far George has maintained his stellar performances, keeping his career high average at 22.7 points, while his rebound average is currently 6.4. George continues to be an NBA star and had recently signed a $90 million contract extension with the Pacers.
Neither George or the Pacers have offered any explanation on the reports so far.
Leaked Photos on Twitter
Report: Paul George Got Miami Stripper Pregnant, Offered Her $1M To Get Abortion pic.twitter.com/mO7C1iqna8

— NBA Pictures™ (@NBAPICTURES1) February 5, 2014
Paul George girlfriend (right) the stripper (left) and she's pregnant, 1 million abortion deal DENIED