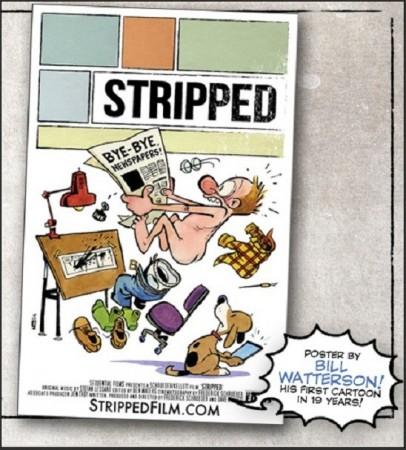 After almost two decades since the 'Calvin and Hobbes' cartoon strip was brought to an end, Bill Watterson - the ever elusive and reclusive creator of the popular series -has hand-painted a poster art for a documentary titled 'Stripped'. This would be a first by Watterson, who is widely known for keeping media and any type of publicity at arm's length.
In another first, Watterson has given his first ever recorded interview for 'Stripped', which is a full-length documentary on the world's best cartoonists.
According to Stripped website, "the film explores the art of the comics strip, the cartoonists behind your favorite strips, and where the art form goes as newspapers die."
The last strip of 'Calvin and Hobbes' was published on 31 December 1995, and since then Watterson has made it clear that it will not return. While he managed to keep away from the public view, it was reported that he has taken up painting.
Webcartoonist Dave Kellett finally managed to get Watterson for the interview, though the documentary will only have his audio interview.
'Stripped' talks about the decline of the newspaper industry and its subsequent impact on cartoonists. The documentary will feature several renowned cartoonists, such as Jim Davis (Garfield), Scott McCloud (Understanding Comics), Richard Thompson (Cul de Sac) and Jeph Jacques (Questionable Content).
The picture by Watterson captures the impact of the declining newspaper industry. The art shows a grown man - a cartoonist - popping out of his clothes, reading about the news of a newspaper closure.
"Given the movie's title and the fact that there are few things funnier than human nudity, the idea popped into my head largely intact," Washington Post quoted Watterson. "The film is a big valentine to comics, so I tried to do something really cartoon-y. I had thought of having it colored with off-registered printing dots like newspaper comics, but Dave asked if I'd paint it instead, and I think he made the right call."
Click here for the 3,150th and final strip of 'Calvin and Hobbes'.
Watch trailer of 'Stripped'