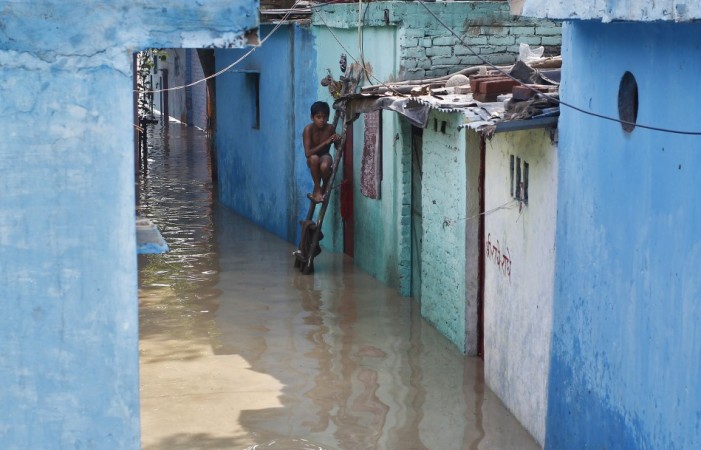 An overnight thunderstorm in Delhi triggered a roof-collapse, killing a toddler, as pre-monsoon showers wreaked havoc in the city on Sunday, flooding the Indira Gandhi International (IGI) Airport and affecting several flights, including that of Prime Minister Narendra Modi.
Modi's flight could not land in Delhi due to bad weather and had to be diverted to Jaipur, according to Hindustan Times. He was stranded at the Jaipur airport for more than hour. The prime minister was returning from Davangere in Karnataka after addressing a public meeting.
NDTV reported that squalls and dust storms accompanied with heavy rain hit the national capital on Sunday evening around 9 p.m.
Though the showers reportedly brought down temperatures that had gone up to 50 degree Celsius in parts of north India, they also claimed several lives and caused damage to property.
According to the HT report, a two-and-a-half-year-old child died in the Motia Khan area of Delhi after a tin roof fell on the people in the house. The collapse of the wall of a post office in the Fatehpuri area of Chandni Chowk damaged several vehicles. Several areas of old and new Gurgaon reported power outage. Commuters found it difficult to travel to their offices since rains uprooted trees causing road blockade and traffic snarls.
HT quoted airport officials as saying that at least 40 Delhi-bound flights had been diverted till 2 a.m., while the NDTV report said at least 27 flights had been diverted. Over 20 flights had been diverted on May 23 as well when a dust storm, accompanied by mild rainfall, had swept the city.
The Met office had predicted thunderstorm accompanied by squalls in Himachal Pradesh, Uttar Pradesh, Uttarakhand, Punjab, Haryana, Chandigarh, Delhi, Bihar, Jharkhand, West Bengal and Tamil Nadu.
Storms flooded the departure lounge of the Amritsar airport and also damaged several small aircraft, the report stated.
A series of cloudbursts and landslides in the Tehri and Uttarkashi districts of Uttarakhand have claimed the lives of at least six people and left hundreds of pilgrims stranded, besides damaging property and burying alive approximately 100 cattle under the rubble, the HT report said.
An India Today report said thunderstorm and rain had claimed the lives of at least 12 people across Uttar Pradesh.