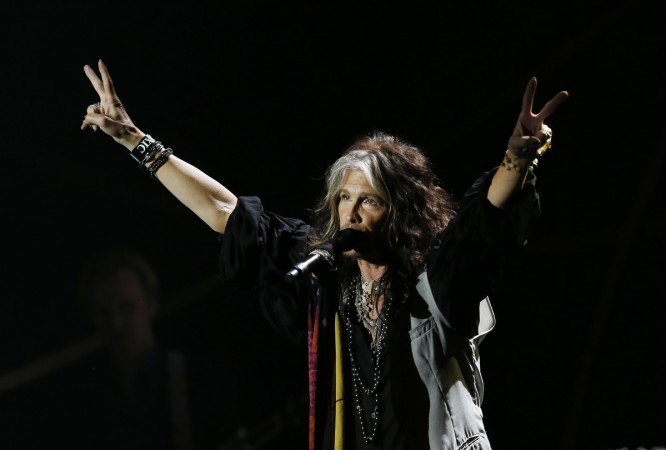 One of the most creative vocalists in rock music history, Aerosmith's Steven Tyler turns 68 today. The legendary musician has been winning over audience around the world for over four decades now. With Aerosmith, he has released 15 studio albums, most of which recorded platinum sales, and has won four Grammys till date. Tyler was inducted into the rock n roll Hall of Fame in 2001 along with Aerosmith.
Here are five songs to sing along to and remember him with on his birthday:
"Dream On" by Aerosmith
"Dream on," released in 1973, is Aerosmith's first hit single. The song established the band as a major act to watch out for in the '70s and has since become one of the most followed songs from that era. It has also been featured in Rolling Stone magazine's 500 Greatest Songs of All Time list.
"I Don't Want to Miss A Thing" by Aerosmith
People who had never heard of Aerosmith also loved this song because of the movie "Armageddon." Released in 1998 along with "Armageddon's" soundtrack, the song almost immediately climbed to the top spot at the Billboard Hot 100, a first for the band back then.
"Crazy" by Aerosmith
Released in 1994, "Crazy" is a part of Aerosmith's hit album "Get A Grip." Its music video was one of the most requested ones on MTV that year. It also featured Alicia Silverstone and Tyler's daughter Liv, who made her career debut in it.
"Just Feel Better" by Santana featuring Steven Tyler
The song, the second single from Santana's "All That I am", was released in 2005 and was one of the firsts in which Tyler experimented with a modern sound. Santana's classic bluesy style of guitar playing will, of course, always remain its highlight.
"Love Is Your Name" by Steven Tyler
A song from Tyler's upcoming solo album, "Love Is Your Name" is a number that is harmonically rich and sonically, has a classic country music vibe. It was released in May 2015 as the first single from Tyler's solo record.