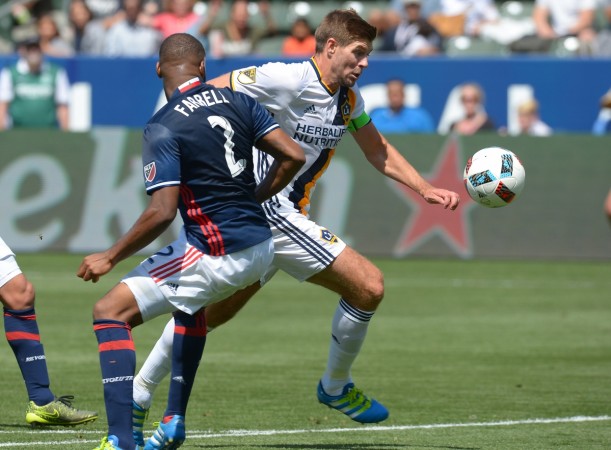 Liverpool legend and present LA Galaxy midfield maestro Steven Gerrard has revealed that he could return to Anfield at some point in the future. The former England senior football team skipper had left the Reds in 2015 after a 17-year stint.
The 35-year-old, who has never won the Premier League title in his career, had earlier mentioned that he could return to Liverpool as a coach, in as early as this year itself, after his contract with the Major League Soccer (MLS) side comes to an end.
The Englishman also mentioned talking with current Liverpool coach Jurgen Klopp about a possible future role with the Merseyside outfit.
"I will be going home at some point," said Gerrard, Mirror reported. "I don't want to start any unnecessary rumours. I'm really happy where I am at the moment. But I'm sure somewhere down the line I will represent Liverpool football club.
"I miss my friends and my family. I miss a bit of cold weather. I miss going to the games. I spent 35 years in Liverpool . Liverpool's my home, it always will be. This is my second home for a short period of time. Sooner rather than later I will return to where I'm comfortable with my people - and that's Liverpool," he added.
Gerrard started his youth career at Liverpool in 1987, before making his senior team debut in 1998. Among many honours, which include being recognised as one of the greatest players to have played in a Liverpool shirt, Gerrard won the FA Cup, the League Cup, the UEFA Champions League and the UEFA Cup.
He scored the final goal for LA Galaxy against New England Revolution in their 4-2 victory on Sunday, after coming on as a late substitute in the match at the StubHub Centre in California. Liverpool, meanwhile, recorded a 2-0 win in their third-last Premier League game of the season on Sunday.
The Reds are currently eighth in the table with two EPL games to go. Liverpool are also in the final of the Europa League this season. They take on Spanish side Sevilla on May 18 in Basel.