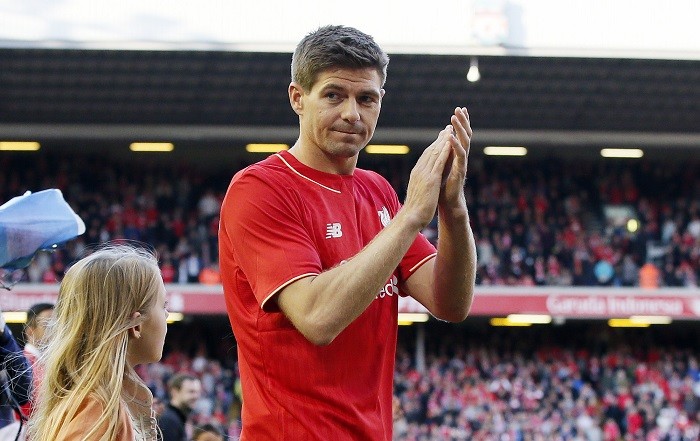 Liverpool veteran Steven Gerrard has blasted the attitude of Reds youngster Raheem Sterling and has said that he expects the 20-year-old winger to leave Anfield.
The relationship of Sterling with the Reds has become sour with eaching passing day, and the England international also had reportedly asked his side not to include him in the club's pre-season tour this summer because he was not in the right frame of mind to play for the tour.
This attitude of the player has not gone down well with Gerrard, who joined Major League Soccer (MLS) side LA Galaxy, following the end of 2014-15 Premier League. The midfield magician who brought curtains to his 17-year affair with Liverpool, has described the Sterling situation at the club "very disappointing".
"I'm not happy with all that carry-on," Gerrard told BBC Sport. "He [Sterling] needs to go in and see the owners. You don't have to throw in illness, or refuse to go on tour. There are millions of Liverpool fans waiting to see Raheem pull on a Liverpool shirt.
"It looks very disappointing from where I'm sat. The fans have shown him great support, they want him to stay and I believe that he should too."
The 35-year-old has also gone on to say that the only way to sort out the uncertainty hovering over the player's future at the moment, is to let him leave LFC.
"It's very difficult for me to sit here and support him and the team around him, what they're trying to do with his career at a young age. It'll be a terrible shame if he goes somewhere and doesn't kick on as a player.
"It's slightly disappointing how far the situation has gone – but the only way I can see for him is out at the moment," added the former England skipper.
Manchester City has been linked with Sterling all summer, and Liverpool have already rejected two bids so far. However, it was recently reported that the Citizens were on the verge of launching a third bid for the player worth £50million, the same amount Liverpool have also been demanding.
Meanwhile, it has been announced on Friday that current LFC midfielder Jordan Henderson is appointed as the new club skipper. The 25-year-old will start his duties as captain in Liverpool's pre-season tour of Asia and Australia that starts this weekend.
"Raheem and Jordan are at different ends of the scale," Gerrard continued. "Jordan's so professional, he's a winner, a great lad. He's been loyal to the club by signing a new deal and I wish him well.
"I see a lot of my game in Jordan's game and what I like about him is he's very humble. I don't think there's a more fitting player to take that armband off me."