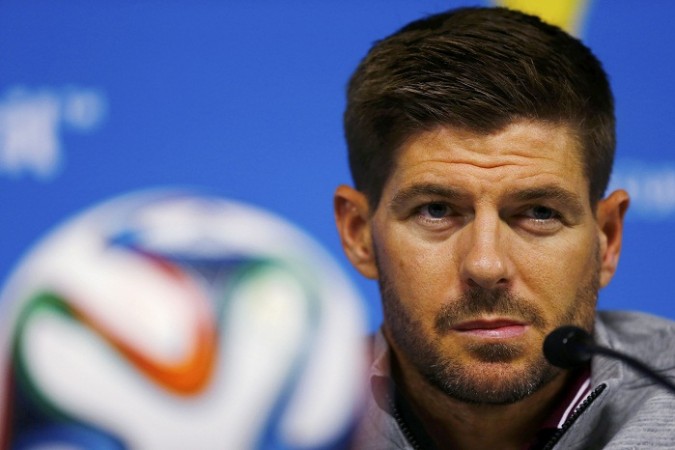 After donning the England jersey for 14 years, Steven Gerrard has finally decided to retire from international football.
The 34-year-old Liverpool veteran, who made 114 appearances for England -- 38 of those as captain -- announced his retirement with a statement on Monday, where he thanked his family and friends for their support whilst also expressing his disappointment at the decision.
"I have enjoyed every minute of representing my country and it is a sad day for me knowing that I won't pull on the England shirt again," Gerrard said in a statement on FA's official website "However, I do look forward to continuing my strong relationship with The FA and helping out in any way I can going forward."
"I'd like to firstly thank my family and friends for all their support throughout my England journey.
"I'd also like to thank everyone who has been part of my international career, from the England Managers I've played under to the staff at The FA and, of course, all the players I've been fortunate to play alongside."
Gerrard, who made his international debut in 2000, went on to score 21 goals for his country, appearing in three FIFA World Cups (2006, 2010 and 2014) and is widely regarded as being one of the best players to have ever captained the English side.
The Liverpool skipper, who wishes to concentrate on winning titles for his English Premier League side, was praised for his decision by former teammate Jamie Carragher but thinks that he could have continued in his role as captain of England.
"I think he could have. I think he has shown that throughout his career, he has been able to deal with the demands of Liverpool and England," Carragher was quoted as saying by the Daily Mail. "At times, you are playing two or three times a week because he is still vitally important to Liverpool, and I think he is also for England in some ways because there isn't a natural person you could see taking the role he has now with England in terms of that holding role, that sitting role."
The news, however, did not surprise many, as it was expected Gerrard would announce his retirement post England's poor performance at the 2014 World Cup, where the team saw one of their fastest exits.
Roy Hodgson, the England coach and a former Liverpool manager, showered him with praises at both a professional and a personal level.
"While I'm disappointed in the decision, I can entirely understand Steven's situation and can have no complaints given the incredible service he has given to his country," Hodgson said.
"He is not only a player to bring crowds to their feet with moments of brilliance; he was a tremendous captain and an exceptional role model for everyone who was fortunate to come into contact with him.
"We shall miss his leadership qualities as we look ahead to the qualification campaign with a youthful group of players. I wish him all the best in the future, although I know I can count on his continued support and influence as a helpful presence moving forward."