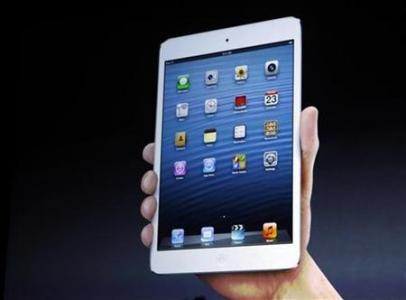 Apple Inc released its new iPad Mini amid much fanfare, bringing to reality Steve Jobs' fear of making a 7-inch tablet - at least if we are to go with the opinions of analysts.
Two years ago, the then chief executive of Apple was against the idea of making a 7-inch tablet, strongly arguing that a 10-inch screen display is the minimum size for good tablet apps. He had said that a 7-inch screen is only 45 per cent as large as iPad's 10-inch screen as screen measurements are diagonal.
It seemed that Steve Jobs' argument has a valid point if the opinion of tech savvies has anything to go by. Tim Cook's decision to launch a smaller-screen iPad could prove costly as there is possibility of the device eating into its own business.
"10-inch iPad cannot be compared with a 7-inch iPad mini. It's much comfortable to watch something on a bigger screen. I think iPad users will not fancy a smaller screen, at least not for me," said a 24-year-old from Bangalore, who owns a third-generation iPad 3.
"New iPad has much more features than iPad mini besides a bigger screen. The price difference ($170) is also very marginal, so I think iPad (2 and 3) users will not go for the mini," said a 26-year-old content writer.
Apple's iPad Mini is priced between $329 and $829 as against the starting price of iPad 2 at $399 and iPad 3 at $499.
Usually, Apple shares shoot up after the launch of its product but this time only a few analysts revised their price targets for the shares ahead of the company's quarterly results announcement on Thursday. The shares went flat at $615 in morning trade on the Nasdaq. Canaccord Genuity raised its target on the stock to $800 from $797, while Barclays Capital cut its target to $800 from $810, reported Reuters.
"We were hoping the price would be at least a little lower given its competition is situated as low as $99, with many starting in the $199-$249 range," Barclays Capital analyst Ben Reitzes told Reuters.
Business analysts are also of the opinion that Apple's iPad mini will not affect the business of low-cost tablets such as Amazon's Kindle Fire and Google's Nexus 7 because of the huge price difference.
iPad Mini is priced between $329 and $829 as against Kindle Fire and Google Nexus 7's starting price of $159-$199 range.
Barclays estimated iPad mini sales at more than five million units in the December quarter, while Canaccord Genuity forecasted sales of 9.25 million units during the three months, reported Reuters.
"While we believe these strong sales will come largely at the expense of Apple's competition, we concede iPad Mini will likely cannibalize iPad and iPod Touch sales," Canaccord Genuity analyst Michael Walkley wrote in a research note.