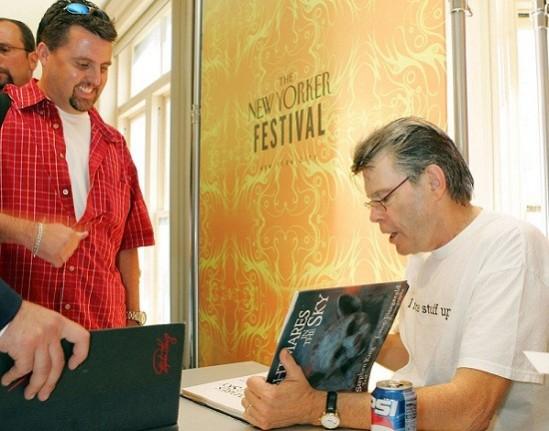 American writer Stephen King created quite a controversy on Tuesday, when he wrote a twitter post in support of Woody Allen, who has been accused of physical abuse by his adoptive daughter Dylan Farrow. Farrow in an open leter had claimed that Allen sexually abused her at the age of seven.
King widely known for his contemporary horror, suspense, science fiction and fantasy writings in his twitter post stated: "Boy, I'm stumped on that one. I don't like to think it's true, and there's an element of palpable bitchery there, but..."
Stephen's comment kicked up a storm, following which the writer, who has sold 350 million copies of his books, received severe critism from the online audience.
Reaction from a Twitter user:
Wow @StephenKing: how is it remotely OK to call Dylan Farrow's wrenching story of child molestation "palpable bitchery"? #palpabledouchery

— Jennifer L. Pozner (@jennpozner) February 4, 2014
The writer's post also gave rise to hastag #palpabledouchery. King who joined the micro blogging site about two weeks back later tweeted:
Still learning my way around this thing. Mercy, please. — Stephen King (@StephenKing) February 4, 2014
Have no opinion on the accusations; hope they're not true. Probably used the wrong word.

— Stephen King (@StephenKing) February 4, 2014
He later deleted the tweet about Farrow.
He also posted an apology on his Facebook page:
Those of you who follow Twitter will know that recently I managed to put my foot in my mouth and halfway down my throat. A good many people came away from my tweet about the Woody Allen controversy with the idea that I had called Dylan Farrow or Mia Farrow (or both) a bitch. That wasn't my intention, but the conclusion on the part of some readers is understandable. I used the wrong word to describe not Ms. Farrow—either Ms. Farrow—but a sad and painful mess. Some people seem to believe that writers never use the wrong word, but any editor can tell you that's not true.
Those of you who have read my work—Carrie, Dolores Claiborne, Rose Madder, and Lisey's Story, to name four—will know that I have plenty of respect for women, and care about the problems and life-situations they face. My single-mom mother faced plenty, believe me. And I have no sympathy whatever for those who abuse children. I wrote about such abuse—and its ultimate cost to the victim—in Gerald's Game.
The maximum number of letters in a Tweet is 140. I think the following would fit: I apologize for screwing up.
Just know my heart is where it's always been: in the right place.