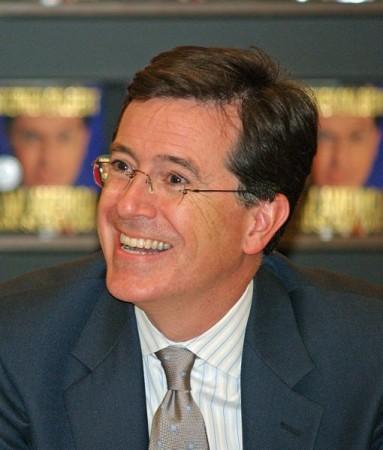 Stephen Colbert has made a successful career out of mocking others. But on Thursday he drew the ire of the online community by allegedly posting a racially offensive tweet on "The Colbert Report" account, which immediately spewed a cancel Colbert hashtag.
"I am willing to show #Asian community I care by introducing the Ching-Chong Ding-Dong Foundation for Sensitivity to Orientals or Whatever," @ColbertReport tweeted Thursday evening, and Twitter users believed the message was posted by Colbert.
But the funnyman soon took to his personal Twitter account to say that he wasn't behind the message, which has since been deleted.
#CancelColbert - I agree! Just saw @ColbertReport tweet. I share your rage. Who is that, though? I'm @StephenAtHome http://t.co/e0Pqz7U7i9

— Stephen Colbert (@StephenAtHome) March 28, 2014
Comedy Central, too, clarified that Colbert isn't affiliated to the account, tweeting: "This is a Comedy Central promotional account, with no oversight from Stephen or his show, that quoted a line out of context. #cancelcolbert."
The racist tweet was a line taken from Colbert's skit on Wednesday where he mocked Washington Redskins owner Dan Snyder's decision to set up a Washington Redskins Original Americans Foundation to help Native Americans. Colbert felt that the foundation was a PR for the NFL team, and alluded that the foundation's name was offensive. Colbert's character in "The Colbert Report" often makes outrageous statements and he has repeatedly mocked Asian stereotypes with "Ching Chong Ding Dong."
The #cancelcolbert was started by public speaker and social activist Suey Park, who wants Colbert to issue an apology for the tweet.
"#CancelColbert because there are 19 million Asian Americans and we will not be silent," tweeted Park, who has received a number of death threats for calling for the cancellation of "The Colbert Project".
While Colbert has garnered a number of haters, there are many who say that the comedian's satire highlights racism, and that people should be focusing on the real issue at hand.
Has anybody in the #cancelcolbert tag tweeted the @redskins to change their name? Do you understand that's what Colbert's bit was about? — Daffodil Goddess (@DaffodilGoddess) March 28, 2014
How about if you folks direct your anger at the person Colbert was parodying, Redskins owner Dan Snyder? #CancelColbert

— Charles Johnson (@Green_Footballs) March 28, 2014
Interesting thing about this Colbert outrage is that everyone is ignoring the Redskins name issue he was mocking. — Dylan Hecht (@dylanhecht) March 28, 2014