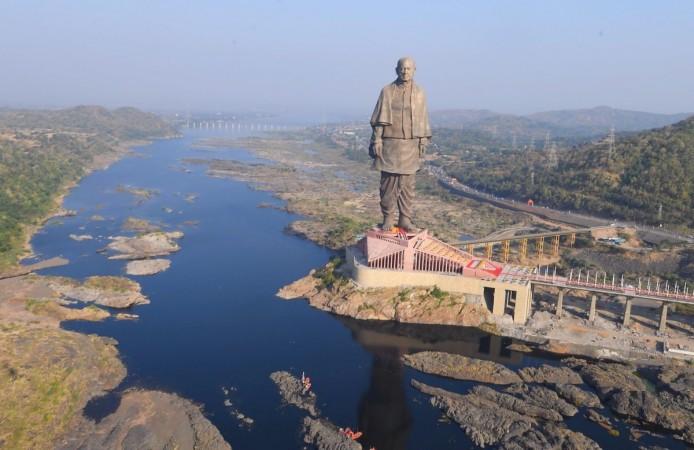 The gigantic statue of 'Iron Man of India', Sardar Patel, has been in news for years now. The 182-metre-tall statue, which is the tallest in the world, was inaugurated by Prime Minister Narendra Modi last week amid huge fanfare.
The statue, located on the banks of Narmada River in Gujarat, is expected to attract thousands of tourists and to bring in crores of rupees as revenue for the state government. Its inauguration came close on the heels of the world's largest sea bridge opened in China connecting Hong Kong with Macau.
The statue also has a lift installed inside it which moves at a speed of 4 metres per second and can take the tourists to a height of 135 metres where a gallery has been created for them to see the beautiful Narmada, the dam, and the surrounding Satpura hills range.
Apart from this, an exhibition hall and a museum have also been built inside the statue along with a 17-km-long Valley of Flowers and a Tent City in its vicinity. In short, the Statue of Unity has been carefully planned to make it a big tourist attraction.
If you are planning to visit Gujarat and see the tallest statue in the world, here's how you can reach it:
The nearest major city to the statue location is Vadodara which is 90 kilometres away from it. It is also easily connected by road with state capital Ahmadabad (200 km) and Mumbai in Maharashtra (420 km).
You can take a flight to Vadodara and easily reach the location via road. The entry tickets are available at the statue location called Shrestha Bharat Bhavan complex, and are also available online at http://www.soutickets.in.
For an adult and children above 3 years of age, the ticket has been priced at Rs 350. The ticket will provide you access to the observation deck, valley of flowers, the Sardar Patel memorial, the Statue of Unity site, museum and audio-visual gallery, and the Sardar Sarovar dam.
You can check the Gujarat Tourism official website for more information.