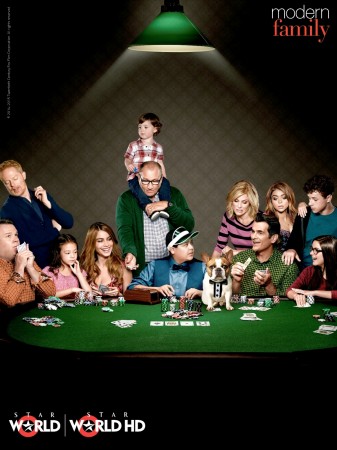 The coming weekend will bring a bonanza of episodes from the fan-favourite show "Modern Family". Mascot "Weekend Baba" had introduced the "Star World Weekend Bing" in the last weekend of April and has been indulging viewers' addiction to TV shows ever since.
From "Homeland" to "How To Get Away With Murder" to "Two and a Half Men" to "2 Broke Girls" and "Agents of SHIELD", back-to-back episodes of many popular shows will be shown in the new programme.
On 23 and 24 May, episodes of "Modern Family" season 6 will be aired starting 12.00 pm (IST). The next week (30, 31 May), all episodes of "2 Broke Girls" season 4 will be aired, while the weekend after that (6 June) will see episodes from the second season of Marvel's "Agents of SHIELD".
Watch out for back-to-back hilarious "Modern Family" episodes starting 12.00 pm (IST) on Saturday on Star World. The show features Ed O'Neill as Jay, Julie Bowen as Claire, Ty Burrell as Phil, Sofía Vergara as Gloria, Jesse Tyler Ferguson as Mitchell, Eric Stonestreet as Cameron, Sarah Hyland as Haley, Nolan Gould as Luke, Ariel Winter as Alex, Rico Rodriguez as Manny and Aubrey Anderson-Emmons as Lily.