The full-length trailer of Star Wars: Episode VIII – The Last Jedi is likely to be released in less than two months time. Thanks to some of the desperate franchise fans, who are really not ready to wait until July to watch the footage, some of the shot descriptions have already leaked online.
The video might not just focus on Jakku scavenger Rey's training section with Jedi Master Luke Skywalker, but also feature a few interesting shots of Supreme Leader Snoke's loyal servant, Kylo Ren. The franchise fans can also expect to watch some space battle action scenes in the footage.
Also read: LEAKED character details on The Last Jedi; big revelations by Rian Johnson
The official footage of Star Wars VIII might even feature former stormtrooper Finn and Vice Admiral Amilyn Holdo while teasing the presence of a Force ghost. Check out the shot by shot description of The Last Jedi trailer below:
A close-up shot of Kylo Ren wearing his Darth Vader Cape
Wide shots of Millennium Falcon flying
Several shots of Ach-To
Stormtroopers will be on the run
Poe Dameron and BB-8 will be trying to escape from a Hangar Attack
Finn will be out of the bacta tank fully recovered.
Several shots of people at Canto Bight, including a bird eye view of the city at night
Vice Admiral Amilyn Holdo aboard one of the Resistance Bombers
Up-close head shot of First Order Heavy Assault Walkers firing their blasters on Crait
A close-up shot of Rey training with the lightsaber
A new space battle shot that gives glimpses of TIE fighters
Shots of Rey and Luke Skywalker on the edge of a cliff overlooking the ocean
Expanded space battle action scenes featuring TIE fighters, X-wing starfighters and A-wing starfighter
The trailer for Star Wars: Episode VIII might also feature the voice of a force ghost, but it may not be as clear as it was in the teaser. The presence of Supreme Leader Snoke could also be felt due to the state of the galaxy in the footage, according to YouTuber Mike Zeroh.
The Star Wars theorist also stated that the video is likely to be screened in several IMAX theatres, including Irvine Spectrum 21 IMAX & RPX in California, AMC Universal CityWalk 19 in Los Angeles and Hackworth IMAX Dome - The Tech Museum in California.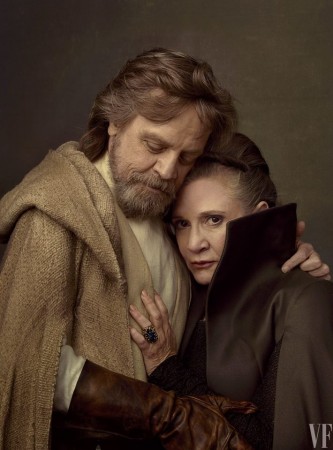 Meanwhile, Pablo Hidalgo, a member of the Lucasfilm Story Group, spoke about a reunion between Luke Skywalker and General Leia Organa in The Last Jedi while interacting with some of the franchise fans at Comic Con Chile.
Later, the Canadian-Chilean author clarified on Twitter that he was just discussing about the possibilities and nothing is confirmed. "Hi! We certainly talked about how great it was seeing them together in the VF pics and that the spirit of their connection is very real. But nothing more specific than that, unless I misspoke or something got lost in translation," he tweeted.
@BethElderkin But nothing more specific than that, unless I misspoke or something got lost in translation.

— Pablo Hidalgo (@pablohidalgo) May 28, 2017