As the release date of Star Wars: Episode VIII – The Last Jedi is getting closer, internet is being flooded with a lot of leaked details. Along with the scene descriptions of the first full-length trailer, details on new characters are also making its way online.
Many of the leaked information comes from various toy manufacturing companies and other firms making film-inspired products. The latest information that internet rumour mills has to offer is related to some of the new characters appearing in the upcoming movie and one of them is Elite Praetorian Guards.
Also read: The Last Jedi LEAKED trailer details; scenes of Luke, Rey
The Guards are described as Executioner Stormtroopers with deadly weapons, including electric axes and double-bladed fighting sticks. Check out the complete description below (via fansite Making Star Wars):
These guards are called Elite Praetorian Guards and they all have different weapons like nunchucks or double-bladed fighting sticks. They all have different helmets and fabric ornamentation but the core armour set on the chest and the arms appeared to be the same to me. The chest and the arms being the same really gives them all sameness while allowing them to have some individuality. They also have red boots on that is obscured on the particular guard.
Another set of leaked character details on Star Wars VIII feature the codenames of some of the new movie-inspired products. While the action toy of Rey is apparently named Foxtrot, Supreme Leader Snoke is code-named Victor, according to Star Wars News Net.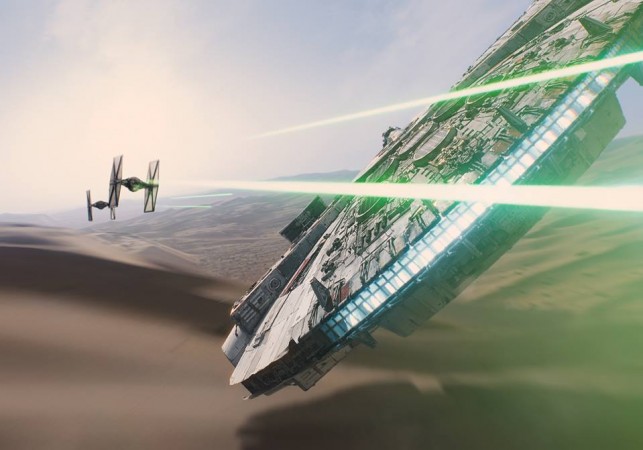 Check out the leaked product details of The Last Jedi below:
BLACK SERIES FOXTROT 1 GREY
CLASS A CREATURE AND DROID ASSORTI
BL COOL BETA GREY
30 CM TANGO WHITE
30 CM BETA 2 BLACK
30 CM VICTOR 1
IP DELUXE DELTA 1
SPINNING LIGHTSABER
BLACK SERIES HELM
CHOOSE YOUR PATH LIGHTSABER
PROJECTILE FIRING LIGHTSABER
The franchise fans were also treated to quite a few leaked scene descriptions on the first full-length trailer of The Last Jedi trailer. According to Star Wars theorist Mike Zeroh, First Order will have a greater presence in the footage.
Here are the scenes rumoured to be featured in the promo:
A wide-shot of the waves of the ocean of Ahch-To as the camera pans on top of a cliff
A short glimpse of Kylo Ren's TIE fighter in action
A-Wings exploding in a space battle
First Order might have upper-hand over the Resistance fighters
Luke Skywalker's walking stick is seen on his belt
An alternate shot of the force back vision
Shots of Chewbacca in the cockpit of the Millennium Falcon preparing for flying
Meanwhile, Star Wars icon Mark Hamill came up with clarifications regarding his statement about disagreement with director Rian Johnson. The actor revealed that he is pretty satisfied with the way his character Luke Skywalker is being portrayed in the movie.
"I was quoted as saying to Rian that I fundamentally disagree with everything you decided about Luke, and it was inartfully phrased. What I was, was surprised at how he saw Luke. And it took me a while to get around to his way of thinking, but once I was there it was a thrilling experience. I hope it will be for the audience too," Hamill told Variety.