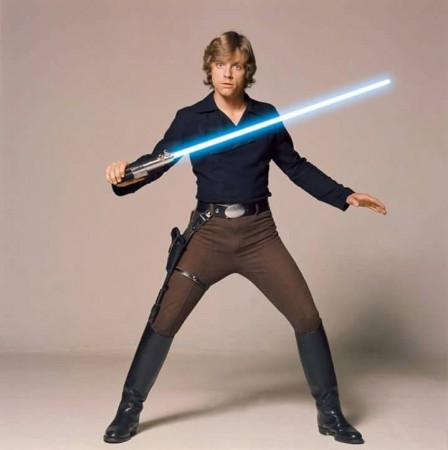 One of the most anticipated films of 2015, "Star Wars: Episode VII - The Force Awakens", is yet to release a trailer, and while millions of fans are churning and spreading rumours about the movie to be released on 18 December, director JJ Abrams has revealed that some of them are in fact true.
One of those rumours is that the trailer would be released during the annual Star Wars festival, on 16 April. Another rumour, that the fans hope is true as much as the trailer release date, is that a young Luke Skywalker would make an appearance in "The Force Awakens" during flash back scenes.
According to Cinemablend, the production of the Star Wars' episode VII, which lasted for six months, has now been completed and is now in post-production ahead of its December release. The movie, which is set approximately 30 years after the events of "Star Wars Episode VI: Return of the Jedi", features three new leads other than Harrison Ford as Han Solo, Carrie Fisher as Leia Organa and Mark Hamill as Luke Skywalker.
While the time period of "The Force Awakens" assures that the actors playing Han, Luke and Leia can appear in their current ages, rumours suggested that British film, television and theatre actor Robert Boulter might be roped in to play a Luke Skywalker.
IBTimes UK edition, quoting Making Star Wars, had suggested that the master character list of Episode VII had mentioned a young Luke Skywalker, sometimes referred to as The Young Original Warrior, and that fans would have a field day if the rumours were true.
Star Wars' official website had claimed in February that Lucasfilm president Kathleen Kennedy and Abrams would kick off the Star Wars Celebration "in a big way on Thursday morning, April 16, at 10:00 a.m. This will be a day long remembered." Fans believe that launch of the trailer would be the ultimate gift for them and that would be surprise event planned for the big day in April.
"There are a ton of rumours - some true, some false," Abrams had told BBC during an interview in February. Which of the rumours are true and which of them false, the fans will have to wait and find out.
Watch official teaser for 'Star Wars: Episode VII - The Force Awakens':