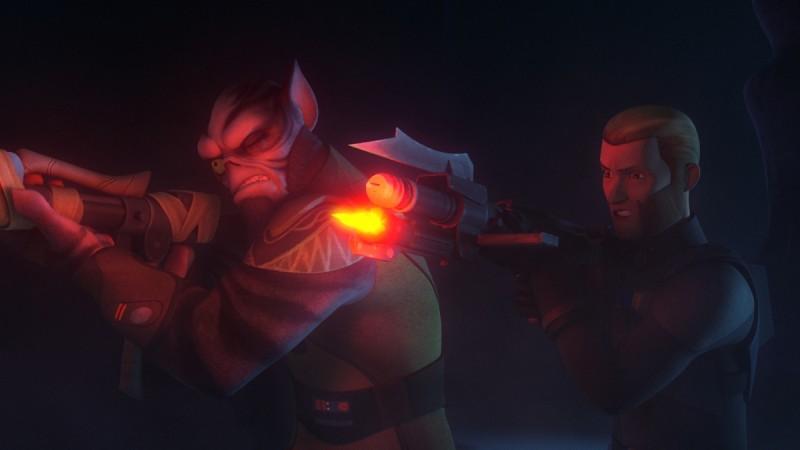 In the upcoming episode titled "The Honorable Ones" of "Star Wars Rebels" Season 2, Zeb and Agent Kallus will be stuck on a strange ice planet after Imperial troops ambush them.
CLICK HERE to watch how Zeb and Kallus will fight the Imperial forces and whether the Rebels will be able to save them or not.
According to the synopsis of the episode, "Zeb and Agent Kallus find themselves stranded on an ice planet after a failed Imperial ambush of the Rebels. With Kallus injured from the escape pod crash, he and Zeb must work together to survive the harsh conditions."
Zeb and Kallus were travelling with the other Rebels, including Ezra and Kanan, when the Imperial forces ambushed them. Trying to defend their ship, Zeb and Kallus get separated from the rest of the Rebels and stranded on a lonely planet that was covered entirely in ice.
Their condition worsens when their ship stopped working due to extremely harsh weather. When Zeb and Kallus try to escape, they realise that a large group of Imperial troops have surrounded the planet and are hunting them.
How Zeb and Kallus will escape the planet and contact Ezra and other Rebels for help will be seen once Episode 17 airs on Feb. 24 on Disney XD.
In the previous episode titled "Homecoming," the Rebels contacted freedom fighter Cham Syndulla, who needed help to fight off the Imperial bombing attack on his planet.
While coordinating a plan to overtake and steal the carrier that housed these Imperial bombers, the Rebels discovered that Cham may have a plan of his own.
Ezra was a big fan of Cham and his revolutionary movements against the Empire. Hence, when he got the chance to work with him, he accepted it immediately. However, Kanan suspected that something was wrong, but Ezra was not in the mood to listen.
Afterwards, both Ezra and Kanan found out that Cham had different motives besides saving his planet and that is why he needed the Rebels' help.