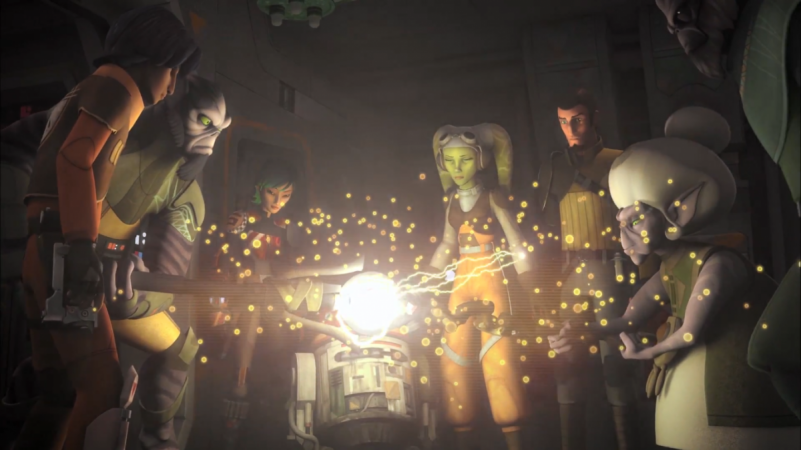 When Zeb comes across two refugees who are survivors of Lasat, he finds his past returning back and haunting him in the upcoming episode titled "Legends of the Lasat" of "Star Wars Rebels" Season 2.
To watch how Zeb will fight against his old fears and save the refugees so that they can make it to their home planet, CLICK HERE.
According to the synopsis of the episode, "When the crew of the Ghost agrees to help two refugees who are revealed to be surviving Lasat, Zeb must come to terms with his past to help his people reach their new home."
Zeb, along with other passengers of the Ghost, is on a run from the Imperial troops. Just when the ship is about to jump hyperspace, he finds traces of two unknown objects flying near the ship. Suspecting them for Empire ships, the Ghost takes the objects into captive.
However, later it is revealed that the two objects are, in fact, living organisms and are residents of Lasat. Since Lasat has been captured by the Imperial army, they had no other option than to escape and find another place to live.
Though Zeb hasn't met them before, he somehow feels an unnamed connection with them. The two Lasat refugees remind him strongly of his past, even though he has forgotten about it a long time ago.
Now, perplexed with such an experience, Zeb decides to find the reason behind it and, at the same time, also tries his best to provide shelters for the homeless refugees.
If the refugees are saying the truth, or it's just another decoy by the Empire, will be seen only when the next episode airs on 3 February, 2016, on Disney Channel.
In the previous episode titled "The Protector of Concord Dawn," Sabine and Kanan continued their journey evading the Imperial soldiers and troops. After a long, exhaustive fight, both of them finally managed to defeat Fenn Rau – the Protector's leader.