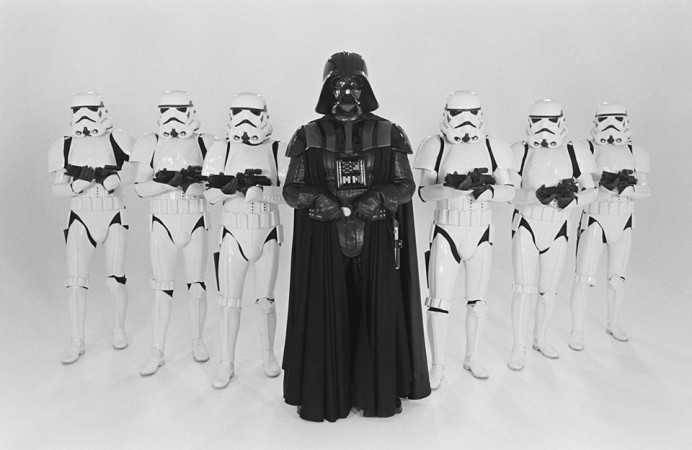 The release of "Star Wars: The Force Awakens" is still months away, but rumours on the fate of key characters and other plot developments have succeeded in sustaining fans' interest in the movie.
Because none of these speculations has been validated by J.J. Abrams or Disney, they should be treated as rumours. But one such talk that refuses to die down deals with the death of Han Solo.
The latest rumour comes from a fansite called Making Star Wars, and it claims that Han Solo will be murdered by the villain with the three-pronged lightsaber. As fans of "Star Wars" already know, the new villain is called Kylo Ren, and he murders Han Solo during a climactic scene in the film. An insider claimed that he even saw the scene being filmed, and added that Chewbacca was unable to prevent Kylo Ren from escaping.
Here's how the scene will unfold, according to Making Star Wars:
"Han Solo is hiding.He decides to reveal himself to Kylo Renn. Finn, Rey, Chewbacca and BB-8 stop in their tracks. They watch as Han Solo confronts Kylo Ren. Kylo Rnn silences the conversation forever. Chewbacca lets out of a barrage of angry roars and laser blasts. Kylo Ren flees the scene.
"Stormtroopers file in and Finn and Rey are forced to flee. More explosions. BB-8 and Chewbacca flee to the Falcon. Han Solo is never in a scene after this. Those are the facts."
How likely is it that the rumour will be true? Firstly, Making Star Wars has been a reliable source in the past, and it is likely that this bit of news also holds some truth.
Secondly, Ford's age is a crucial factor. He is getting on in age and after suffering an injury during the making of "Star Wars: The Force Awakens," it's a possibility the 71-year-old actor may not want to continue as Han Solo.
Also, Ford had earlier said that the role did not hold much appeal to him. "As a character [Han Solo] was not so interesting to me. I thought he should have died in ['Return of the Jedi'] to give it some bottom," the actor told ABC in 2010.