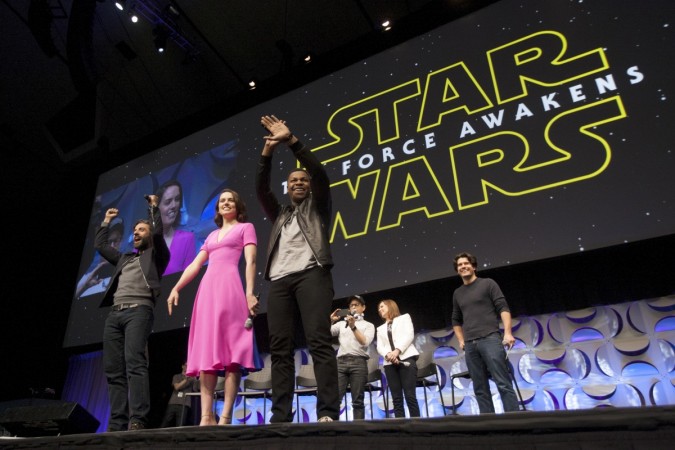 "Star Wars: The Force Awakens", one of the most-anticipated movies of 2015, will not only bring many iconic characters such as Luke Skywalker, Chewbaka, Han Solo, and Princess Leia to the big screen after a three decade-long hiatus, but also probably introduce new members of the Skywalker/Solo family.
The speculations and anticipation for the movie are so huge that analysts are already predicting mammoth box office collections for the seventh instalment of the "Star Wars" series.
From the trailers for "The Force Awakens", fans know that the protagonist for the upcoming movie is Rey (Daisy Ridley), a scavenger on planet Jakku.
She is defined as a totally self-sufficient woman who goes on an adventure after meeting an unlikely character.
A popular theory that she may be the daughter of Leia (Carrie Fisher) and Han (Harrison Ford) makes Rey a fascinating character for fans.
Although it has been clarified by a few sources that the "daughter question" will not be explored in "The Force Awakens", meaning Rey's parentage will probably be revealed in the later instalments, we are still curious to get to the bottom of it.
Meanwhile, another source has claimed that none of the heroes in the film will be Skywalkers or Solos, meaning rumours about Rey are false, or Rey herself is unaware of her parentage.
However, this information also gives way to another theory that Kylo Ren (Adam Driver), the antagonist of "Star Wars: The Force Awakens", is the son of Han and Leia. Wielder of a red force saber, Kylo is assumed to be a a Dark Jedi or Sith Lord who possesses dark powers.
Regardless of the identity of Han Solo and Leia's child, "The Force Awakens", set for release on 18 December 2015, is expected to collect about $1.95 billion at the box office, enabling Disney to earn a profit of $1.03 billion.
According to Morgan Stanley analyst Benjamin Swinburne, these numbers will make it the third highest grossing movie of all times, after "Avatar" at No. 1 with $2.79 billion and "Titanic" that earned $2.19 billion, reports Deadline.