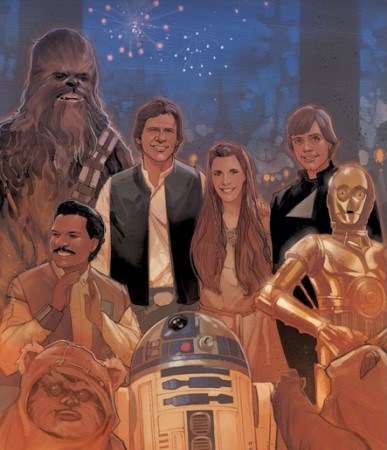 The possible sequence of events in the first 30 minutes of "Star Wars: The Force Awakens" has been leaked online, and it details the event that kick-starts the search for Luke Skywalker, who as per reports, is shown as missing when the movie begins.
According to MakingStarWars.net, the first shot is that of a lightsaber tumbling through space and crashing on to the ground. It's dawn, and a "strange hand" appears. The next shot will show BB-8, who appears troubled, hurrying off towards the village, following which the vicar (Max Von Sydow) will be seen handing over the lightsaber to Poe, the character essayed by Oscar Isaac.
The scene that follows is expected to be Poe's escape scene. Reportedly, Poe sees Stormtroopers approaching the village and he, along with BB-8, escapes as the villagers prepare for battle.
As the battle rages on, Finn is shown rescuing a villager, as Poe and BB-8 watch the clash from a distance. Poe notices Kylo Ren's arrival and quickly hides the lightsaber in one of BB-8's panels. They decide to go their separate ways.
As per MakingStarWars.net's Jason Ward, the next set of scenes is as follows: "Stormtroopers make a mess of Poe's X-wing. BB-8 watches as Stormtroopers depart, huge fireball. BB-8 watches as Stormtroopers destroy Poe's ride (backlot). Imperial Troop Transporters and Kylo Ren's shuttle head for the Star Destroyer."
"Star Wars: The Force Awakens" opens in theatres on 18 December 2015, and and it is a continuation of the saga that is set 30 years after the events of "Star Wars: Episode VI - Return of the Jedi."
Fans of the fantasy action flick -- who were disappointed by the lack of scenes with the original heroes in the first trailer -- will not have to wait for long for a brand new trailer. Rumours have it that the new trailer, possibly featuring Luke, Leia and Han could premiere at the "Star Wars" Celebration on 16 April, or it could be attached to the "Avengers: Age of Ultron," which will release on 1 May, reported Latino Review.