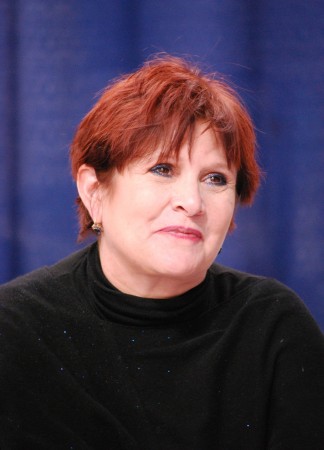 Carrie Fisher is all set to reprise her role as Princess Lei in "Star Wars: Episode VII" but this time, the actress may have a entirely different look. Fisher's mother and screen legend Debbie Reynolds has revealed that Fisher has lost an immense amount of weight for the role.
"She's very excited about it... she's been on a diet ever since, because you know they have to be up to par, so she looks terrific, she's lost 40 pounds." Reynolds told Extra.
Reynolds' revelation gives a little hint on how will Fisher look in the film.
Other actors who will reprise their roles include Mark Hamill and Harrison Ford. Hamill will play the character of Luke Skywalker, where as Ford will return as Han Solo.
Though Fisher is prepping up for the role and seems to be putting all her energy into attaining a new look, Ford may not be that excited. The actor had suggested a while back that there is not much left in store for his character.
"The breadth of his story utility was never extensive," Ford said on his Star Wars character to Entertainment Weekly. "He was the foil between the other more compelling elements of the film, between the sage old warrior and the young hero. There's not much breadth of character to explore what we got out of him."
Ford's character Solo has been compared to Indiana Jones on several occasions. However, the actor feels Solo is not that exciting a character as Jones.
"He's got a good heart, but I think he's certainly a much less interesting character than Indiana Jones," Ford had said.
"Star Wars: Episode VII" is set to hit theaters on 18 December 2015. The film is directed by J.J. Abrams, and the screenplay is written by Abrams, George Lucas, Lawrence Kasdan.