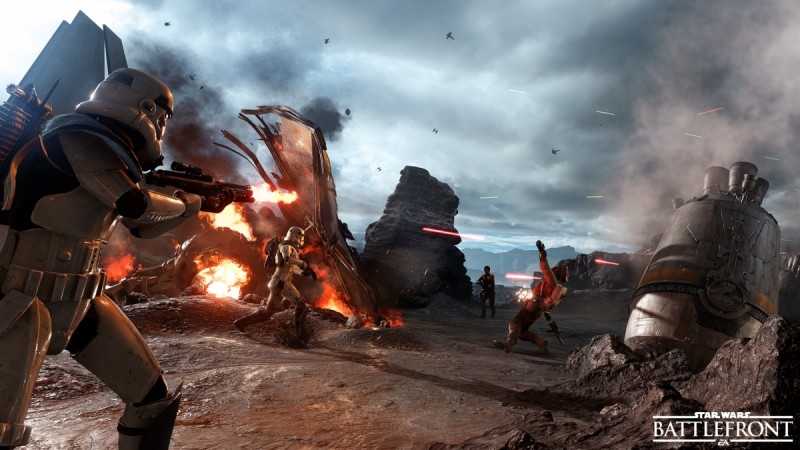 "Star Wars Battlefront," the action shooter video game from developers EA DICE, received a new free March update, version 1.06.
Though the developer did not share patch notes, it has shared the details of what to expect in the March update (EA Star Wars):
"Survivors of Endor," a new multiplayer map, follows the aftermath of the destruction of the second Death Star and supports Walker Assault, Supremacy, and Turning Point.
New Tatooine Survival Mission with a fresh look at Tatooine that you can enjoy on your own via singleplayer or couch co-op / online co-op with a friend.
Meanwhile, Reddit users have posted that images of the free Jabba the Hutt contracts and new guns. Another Reddit user shared an Easter egg in the new Endor map.
It must be noted that the next add-on for "Star Wars Battlefront" is most likely to be Outer Rim expansion pack since EA DICE. The company has revealed that the expansion is expected to be out in March.
The Outer Rim expansion pack will allow players to explore new locations ( factories on Sullust and Jabba the Hutt's palace on Tatooine), bring new weapons (new Relby V-10 rifle and DT-12 blaster pistol) and let players collect and use Scatter Gun, Dioxis Grenade and Adrenaline Stim Star Cards. The players will also be playing hero characters like Greedo and Nien Nunb. The upcoming pack will also feature a new Extraction mode, EA said in its official website.
Prior to the release, EA DICE noted the release timings in its forums page:
PC: 8:00 AM UTC (12:00 AM PT / 3:00 AM ET)
PlayStation 4: 9:00 AM UTC (1:00 AM PT / 4:00 AM ET)
Xbox One: 10:00 PM UTC ( 2:00 AM PT / 5:00 AM ET)
Check the trailer video here.
After Outer Rim expansion, the game is expected to get three more expansions, Bespin (between June and August), Deathstar (between September and November) and the last one remains untitled that is likely to drop in early 2017, CNET reported.
Battlefront was released in November 2015 for Xbox One, PlayStation 4 and PC.