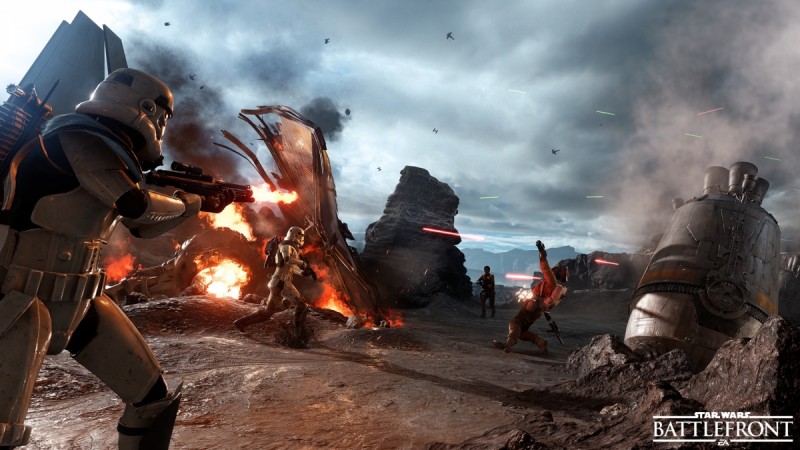 Star Wars Battlefront, the upcoming FPS video game from publisher EA and developer DICE, which is expected to be released on 17 November, was mistakenly delivered to some players, thanks to the slip-up by some retailers.
With its street date now broken, some players who received the copies early, have shared via Reddit the changelog of day one patch 1.01.
The new game that would be the third major addition to the Star Wars Battlefront series is a reboot of the previous game. The game allows players to explore planets like Endor, Hoth, Tatooine, Jakku and Sullust in the Star Wars universe.
Players can either control a Rebel soldier or an Imperial Stormtrooper. The game boasts of having Darth Vader, Luke Skywalker, Boba Fett, Leia Organa, Han Solo, and The Emperor as playable characters.
The game comes ahead of one of the most awaited movies this year, "Star Wars: Episode VII - The Force Awakens," helmed by J. J. Abrams. The movie will hit screens on 14 December.
EA has released a Star Wars Battlefront companion app for iTunes Store and Google Play. This app features a card-based game called Base Command, that will help in connecting with friends, tracking Star Wars Battlefront career and more.
The game has already been made available for EA Access subscribers on Xbox One.
Star Wars Battlefront is expected to roll out for PC, PS4 and Xbox One.
Below is the leaked changelog that reveals that Star Wars Battlefront will get some bug and stability fixes in patch 1.01:
Tweaked hero card spawn times
General bug fixes for the partner system
Various fixes for getting stuck when exiting Starfighters and ground vehicles
General crash and stability fixes
Online traffic performance improvements
Various text fixes for all languages
General bug fixes for both Missions and Multiplayer