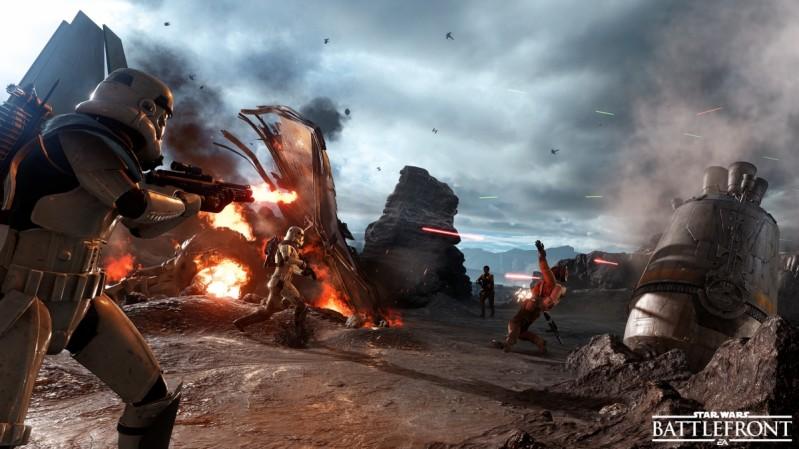 As Star Wars fans get ready to awaken the Force in them this December with the J.J. Abrams movie titled "Star Wars: Episode VII - The Force Awakens", EA DICE has spiced it with some happy news. It recently announced that its latest video game in the franchise, Star Wars Battlefront's beta version, will be available to players on 8 October and 12 October. The galaxy far, far, far away is getting closer.
EA Dice noted on the official website that the beta version will be available on PC, PS4 and Xbox One.
The beta will only be giving fan "a small taste of Star Wars battle fantasies," pitting the Rebels and Imperials. The beta will be offering players more than just the swishing of the light sabres.
The beta version will be offering players with three modes that are set in three different planets, as given below:
· Walker Assault on Hoth: A 40-player battle (20 each side), where players will play as Rebels taking on the Empire's AT-AT's in Y-wing bombers. It also offers players to play on the side of the Empire where they are tasked to protect the walkers and crush the Rebels using "mighty weapons."
· Drop Zone on Sullust: These are 8v8 matches with the escape pods crashing down and players fighting to control them. It supports 16 players.
· Survival Mission on Tatooine: This mode can be played alone or with a friend using co-op or split screen, battling waves of Imperial forces, inclusive of T-ST's, TIE fighters, elite stormtroopers and others.
EA DICE has said that players need not register and it is free to all to try the game, provided they have the PC, PS4 and Xbox One.
It also noted that the game will have beta level cap of level five. Once players hit this, they will not be able to progress but they can still unlock items in beta. The game does not allow players to carry over stats and progression to the final game.
Players can also try the new Star Wars Battlefront Companion experience featuring strategic card game Base Command, letting users earn some in-game Credits that unlock Star Cards, weapons and more in Star Wars Battlefront, the website noted.
Star Wars Battlefront will be released on 17 November in North America, Europe release is slated for 20 November.