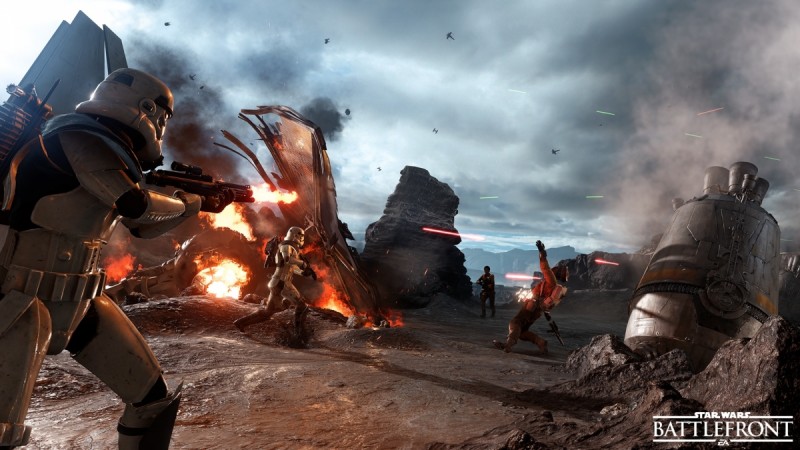 The new Star Wars movie "Star Wars 7: The Force Awakens" had record opening at the box office following its release in the theatres worldwide. Many fans thought that EA's video game Star Wars Battlefront, which was released in November 2015, is likely to have something related to the movie.
But sadly, this will not happen with EA categorically stating that Star Wars Battlefront is "set during the original trilogy." This meant that there will not be any Force Awakens DLC that many were hoping could be a possibility following the resounding success of the movie.
However, this does not mean Star Wars Battlefront will not be getting any updates. PC Gamer has revealed of EA's plans that will see the addition of new heroes, villains, weapons and vehicles that will be part of four different expansions for the game.
The recent Battle of Jakku DLC had something to offer with a loose connection with the movie, as it takes place 29 years before events of "Star Wars 7: The Force Awakens."
Tips and tricks to level faster
Ranking up in Star Wars Battlefront will help players get better equipment, weapons and more. GottaBeMobile has shared some of the basic tips that will help players in the Star Wars Battlefront.
Use the headsets and communicate with friends will let players have an increased chance of winning matches. Teamwork is equally important in the game. Headsets will let players listing to the enemy footsteps or fire, thus cautioning players ahead.
Players must use the credits judiciously as they are hard to come by.
Players must use their controller as it is easy to aim the reticle of the X-Wing or Tie-Fighter.
Players must not go guns blazing and it is important to stay low and use cover for them to stay alive and using crouching option well.
Try to memorise the location of the power-ups as they are spread across the map in a level.
Players must complete the in-game challenges since they will give them additional points.
Try using the combination of first person and third person view when moving.
Become a hero by finding the hero token as they are the most powerful characters in the game.
Make good use of the vehicles in the game as they will help players to travel quicker.
Do not be tempted to leave a match due to frustration or anger. Complete the match as players will gain a match bonus on completion and will also get experience points.
Players can practise using the training modes for better experience.