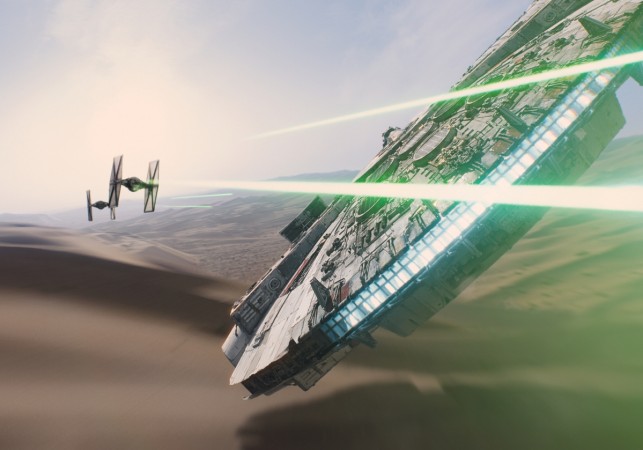 JJ Abrams was clearly the best person to direct "Star Wars: The Force Awakens." However, many fans may not know that there quite a story behind how the director came on board the project. And it involved some persuasion from Steven Spielberg.
During a recent interview with The Hollywood Reporter, Spielberg and President of Lucasfilms, Kathleen Kennedy, spoke about how they persuaded Abrams to direct what became one of the biggest hits of his career.
Kennedy was asked if she had ever thought about approaching Spielberg to direct the first instalment of the new Star Wars trilogy. She replied: "No. Steven and I had many conversations about J.J." Following her response, the director stepped in to further explain how the duo then convinced Abrams to make the film.
"I brought J.J.'s name up. I thought J.J. would be the best person to direct Episode 7 and I called J.J. and said 'Would you do it if it was offered to you?' He said, 'I would but my wife won't let me 'cause she doesn't want me to restart any more franchises.' But I went to Kathy and asked if I could get J.J. to say yes to this would you consider it? Kathy said 'Are you kidding? Of course I would. But why would J.J. do Star Wars; he's already done Mission Impossible and Star Trek.'"
In order to convince both Abrams and his wife, Spielberg decided to take the couple out to dinner with his own wife.
"So I take Katie Abrams and J.J. to dinner that night to Giorgio with my wife, Kate, and right in front of Katie Abrams I popped the question. I said to Katie, 'I think there's a chance that J.J. could direct Star Wars. What do you think of that?' And Katie turned to J.J. and said, 'That would be amazing. Really?' And I went outside the restaurant, picked up my phone, called Kathy and said, "When can we meet with J.J.?" And that's how the whole thing began."