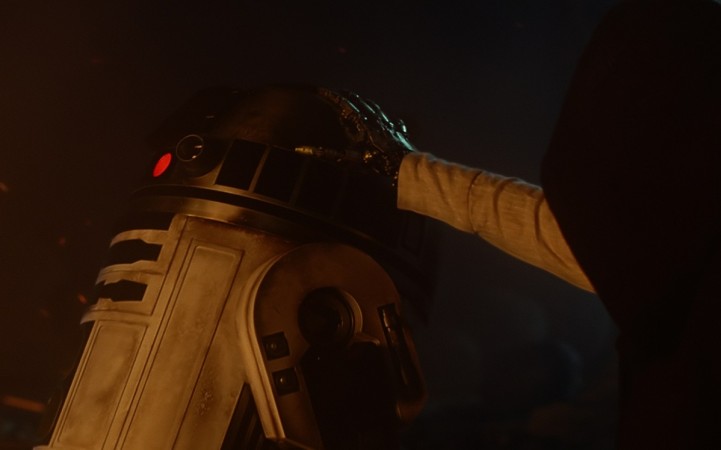 Ever since "Star Wars" franchise released the second trailer of "The Force Awakens" at Celebration Anaheim, fans are curious to know about the whereabouts of Luke Skywalker (Mark Hamill) as they can just hear his voice and a shot of his bionic hand.
The two-minute-long sneak peek video has a voice over of the iconic character saying, "The force is strong in my family. My father has it. I have it. My sister has it. You have that power too."
While the plot rumours indicate that Hamill's character is residing on a rocky island situated in the middle of the sea with a new mission, speculations also suggest that the actor may not have a much screen space in "The Force Awakens".
The leaked synopsis states that Skywalker will only appear in two scenes: one in the flashback scene where pirate Maz Kanata (Lupita Nyong) talks about the origin of energy light-sabre and the other towards the end of the movie.
Meanwhile, the description also indicates that the seventh instalment of epic space opera is likely to revolve around Han Solo's (Harrison Ford) daughter Rey's (Daisy Ridley) quest for the Jedi master.
But the biggest question that is revolving around the viewers mind is that who could be standing besides Skywalker when he talks about the power. A fan site assumes that it might be a new member in "The Force Awakens" who could either be Skywalker's son or a young Jedi and Hamill's character could be reciting the words to him.
"A popular theory is that one of the new cast members is a child of one of the original characters and therefore 'The Force' runs strong in their blood. That could still be true, as some believe that the villain, Kylo Ren, is a carbon copy of the Jacen Solo character from the EU novels," stated the website.
However, "Star Wars" fans will have to wait for the release of "The Force Awakens" to know what JJ Abrams and the rest of the creative team have prepared to entertain them.