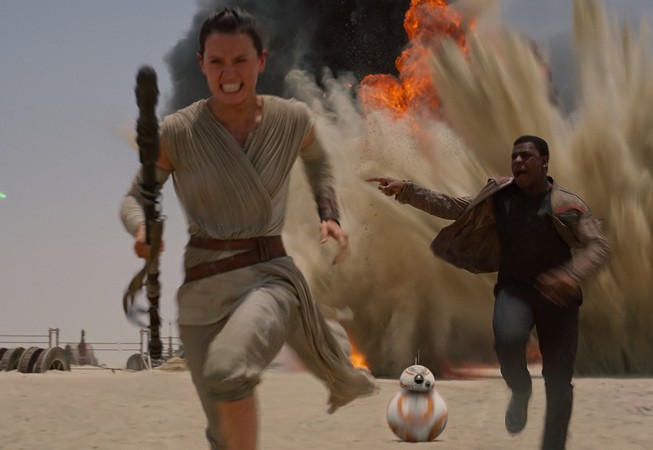 Fans of "Star Wars" will have to wait until 18 December to watch "The Force Awakens" but they have already got the glimpse of various characters, including Kylo Ren and Princess Leia, through various online leaks. The latest leak gives them a quick look at Han Solo, Rey, Finn, Captain Phasma and others.
While Harrison Ford, Daisy Ridley and John Boyega's characters are seen riding the iconic spacecraft Millennium Falcon, Gwendoline Christie and Domhnall Gleeson are shown on a Star Destroyer in the images that is probably from two important scenes of the movie.
The website claims that both the scenes are similar to the early sketches released by The Star Wars Underworld. In one of the images, Han Solo, Rey and Finn are seen heading to a pirate castle to meet Maz Kanata and find out more about the lightsaber that BB-8 is holding.
Meanwhile, the other scene shows The General discussing about the whereabouts of stormtrooper Finn with Captain Phasma and trying to trace him, according to Making Star Wars.
In the meantime, a fan site of "Star Wars: The Force Awakens" called "Star Wars 7 News has released the character details of Greg Grunberg. The 48-year-old actor, who has been confirmed as one of the cast members in the sequel is seen wearing the costume of an X-Wing pilot in the photo.
The website even stated that Admiral Ackbar and Nien Nunb will be part of the movie and released the images of the characters.
However, fans of the epic space opera will have to wait until July to know more about the film as a new trailer is expected to be released during San Diego Comic Con 2015.