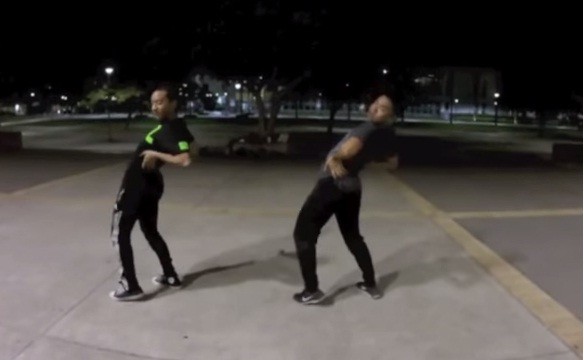 When Nicki Minaj appeared on "The Ellen Show" this week, host Ellen DeGeneres slipped into a butt pad, white tank top and a pair of cut-off denim shorts to show off her "twerks" and called it, "Ellen's Anaconda Video."
"There was a lot of booty popping right there and I may have popped a booty muscle," the TV host said, before revealing that Minaj would appear of the show on Wednesday. When Minaj did make it, DeGeneres told her that she just wants her success and for that, she would show the audience, the Anaconda video, in which she had made an appearance.
"You're very successful. If you would've put the version on, the one that I was in, the one that I shot with you, it would've had more views. So, I'm gonna show them."
Minaj was quite pleased with with the gesture and giggled before exclaiming, "You are hilarious"!
While undboutedly the Anaconda spoof, in which DeGeneres superimposed herself onto one of the back-up dancers, was hilarious, it has nothing on the video posted by Jeffrey Caluag and Dimitry Mendez, University of California Irvine students. The duo not only crushes the booty-popping choreography, they incorporate their own swift, fierce and incredibly safe-for-work choreography. Infact, their version of Anaconda may have more intense hip movements and attitude than the rapper's herself.
The nearly one-and-half minute clip of the university students dancing to Anaconda was uploaded by Caluag via his Tumblr account nearly a week back, and already has over 289,724 notes.
Caluag and Mendez have been receiving extremely positive feedback for their dance moves on the internet:
"I love this i don't even like this song..." posted Jackyoh971 and Hachiro "Nani" Tanaka posted "Hats off to all of you people, looks hella sick choreography " on YouTube.
"THIS VIDEO GIVES ME SO MUCH LYFE I AM CRYING THEY ARE SO SASSY I AM BLUSHING, " kkatherinelin posted on Twitter.
Lauren Hockenson was so impressed by this version of the Anaconda, she tweeted about taking up learning their choreography as a job: "Been watching this for days and considering quitting my job to spend every hour learning it"
The video also been uploaded to the YouTube channel of King and Queens, dance workshop under "Jeffrey Caluag & Dimitri Mendez - "Anaconda" | The Coronation | Kings & Queens Scouting Workshop". Other videos of the duo can be viewed at Heffrey Caluag's YouTube channel.
Minaj has a history of bringing her fans to the spotlight, so hopefully she'll see this fierce "Anaconda" routine and call these boys to the stage or even asks them to be her back-up dancers.