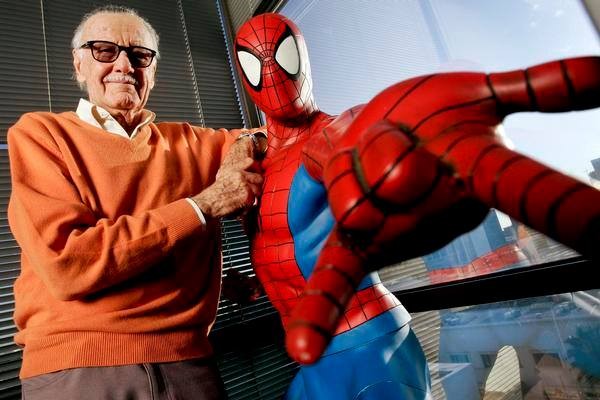 Comic book legend Stan Lee, yes, the creator of "Spider-Man," "Iron Man," and "X-Men," is now planning a foray into Bollywood, according to latest reports. The movie, to be made on Lee's comic book character "Chakra: The Invincible" — the Indian superhero that was introduced in his comic book of the same name in 2011 — will feature the writer in a cameo appearance.
Stan Lee, known for creating some of the most popular Marvel's comic book characters of all times, including the "Hulk" and "Fantastic Four," has made a cameo appearance in almost all the live action movies that have been made on his characters. He has acted in the "Spider-Man" trilogy (2002-2007), "Fantastic Four" and its sequel (2005-2007), and Marvel Cinematic Universe's (MCU) movies like "Captain America," "Thor" and "Avengers."
Now the Hollywood Reporter (THR) has stated that Lee will be collaborating with Bollywood filmmaker Vikramaditya Motwane of "Udaan" and "Lootera" fame to co-direct a Bollywood movie based on "Chakra." According to the website, Motawane has assured that Stan Lee will be part of the movie.
"I'm a fan of Bollywood films and am really excited about launching 'Chakra the Invincible' as my first Bollywood superhero movie," Lee said to THR. "Vikramaditya is an amazingly talented filmmaker who I have no doubt can make the 'Chakra' film a massive hit in India and around the world. I only hope he remembers to include my cameo!"
In response, Motwane said, "It's an honor and an absolute delight to be making a film based on a Stan Lee character. And no, we won't forget Stan's cameo..."
According to Indian Nerve, "Chakra: The Invincible" tells the story of a teenaged boy, Raju Rai, who hails from Mumbai. His guru assists him in creating a suit that can enhance the mystical chakras in a human body, thus unleashing the hidden powers.
The movie will be co-produced by Lee's Pow! Entertainment, Sharad Devarajan's Graphic India, and director- producer Anurag Kashyap's Phantom Films.