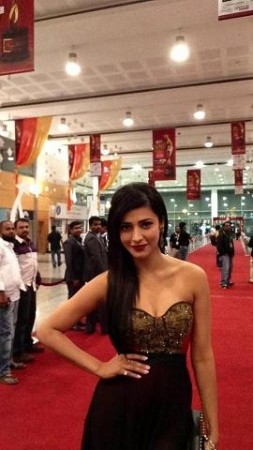 Actress Shruti Haasan was in for a rude shock on Tuesday (19 November), when a stalker attacked her at her residence in Mumbai.
According to reports, Shruti's door bell rang around 9.30 a.m. at her Bandra residence in suburban Mumbai. The actress attended to the door thinking that it was her maid. When she opened the door, a stranger tried to grab her throat and strangulate her. However, Shruti managed to push him away and closed the door. The stranger reportedly hurt his hand and then ran away.
The "3" actress is said to have been traumatized by the incident, but is safe. She later posted a message on her micro-blogging site twitter that read: "I'm doing fine and thankyou for the concern." The actress also said that the police are looking on the case.
It is not clear as to who the attacker was. Reports claim that he could be an obsessed fan of Shurti. The actress's public relations team told The Hindu that a man had been following the actress for around a year. They claimed that the man tried to get closer to Shruti on the sets of her recently-released Hindi film "Ramaiyya Vastavaiyya." Her staff managed to get him out of the sets. The stranger was reportedly spotted on the sets of "D-Day", which also stars the gorgeous actress.
Shruti is the eldest daughter of actors Kamal Haasan and Sarika. She made her Bollywood debut in "Luck", co-starring Imran khan. The actress is juggling her film projects in Tamil, Telugu and Hindi film industries. She will be next seen in Telugu film "Race Gurram" alongside stylish star Allu Arjun.