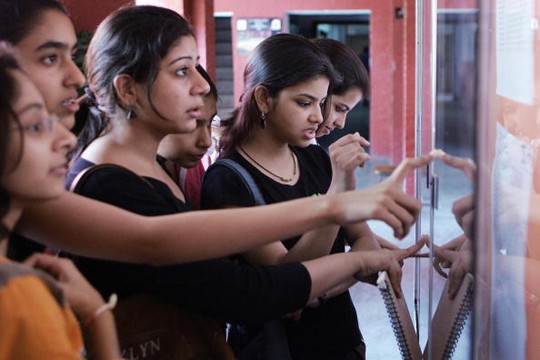 Delhi University's St Stephen's College has fixed the cut-off at 99 percent for English (Honours) for those students who opted for commerce in Class 12, while it is 98.5 percent for those interested in pursuing graduation in Economics (Honours).
Announcing the cut-off list on Tuesday, the college said those who studied science and humanities in Class 12 should have scored 97.75 percent and 97.50 percent, respectively to apply for English (Honours).
Besides, students should have secured at least 90 percent in English (core) or 85 percent in elective English to apply for English (Honours) course.
To apply for Economics (Honours), Class 12 commerce students should have scored 98.50 percent. The cut-off is 97.50 percent for science students and 97 percent for humanities students.
Besides, the applicants should have scored at least 90 percent in mathematics in Class 12.
The easiest to pursue is a course in Sanskrit (Honours), for which the college has fixed the cut-off at 70 percent for humanities students.
The college has received 32,200 applications this year, the highest in its history; the college was founded in 1881.
St Stephen's College spokesperson Karen Gabriel said the cut-offs were not so high, according to Hindustan Times.
"Students are getting high marks in Class 12 board examinations and that is bound to be reflected in the cut-offs. We have 410 seats and we call students for interviews in the ratio of 1:4 (seat:candidates) for an interview. Low cut-offs will disturb this ratio," Gabriel said.
Other DU Colleges also expected to announce higher cut-offs
President of DU's Principal Association and Principal of Deen Dayal Upadhyaya College SK Garg said the cut-off for other colleges is also expected to be higher than last year.
"Every year the University receives higher number of applications than the previous year for the same number of seats and that shoots up the cut-offs," he said.