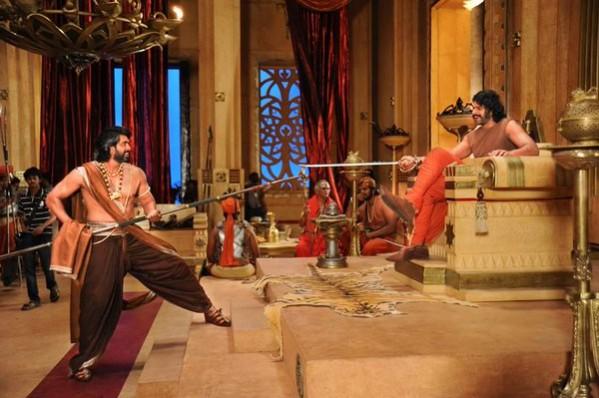 Shobu Yarlagadda, who is co-producing "Baahubali" with Prasad Devineni, has confirmed that the shooting of "Baahubali: The Conclusion", a sequel to "Baahubali: The Beginning" will begin from 17 December.
"Baahubali: The Beginning" released in theatres across the globe on 10 July and became a blockbuster success. The movie has become one among the all time highest grossing Indian movies. The huge success of the film, which had an abrupt ending, has created lot of expectations about the film.
"Baahubali" is a period drama and the makers had initially planned to produce it as single part movie. But its length increased as they went shooting and they decided to release it in two parts. The makers have already completed 40% of the filming of "Baahubali: The Conclusion". It was reported that the filming of the remaining portion would start from 15 December.
Now, producer Shobu Yarlagadda took to his Twitter handle on Wednesday to announce that the filming of "Baahubali: The Conclusion" from Thursday. He tweeted, "Tomorrow is the 1st day of filming for @BaahubaliMovie - The Conclusion! Last 4 months since release of Part 1, @ssrajamouli n team have been working tirelessly on concept art, set designs, axn design n more.."
Soon after the release of "Baahubali: The Beginning", it was reported that the team of "Baahubali" was on a long break. But Shobu Yarlagadda slammed the reports saying that the team was busy preparing to make "Baahubali: The Conclusion" better to watch than its prequel.
Talking about "Baahubali: The Beginning", Shobu Yarlagadda further tweeted, "Just to set the record straight, @BaahubaliMovie team was not on a break!! We have been working with some of the best talent within n out of India, to make a film that all of you will enjoy! @BaahubaliMovie"
However, SS Rajamouli has reportedly made several new additions to the cast and crew of "Baahubali: The Beginning" to make it even bigger than its prequel. He is said to have roped in a few Bollywood stars and speculations were being made about them. But the director has neither confirmed nor denied the reports. He has kept everything under wraps.