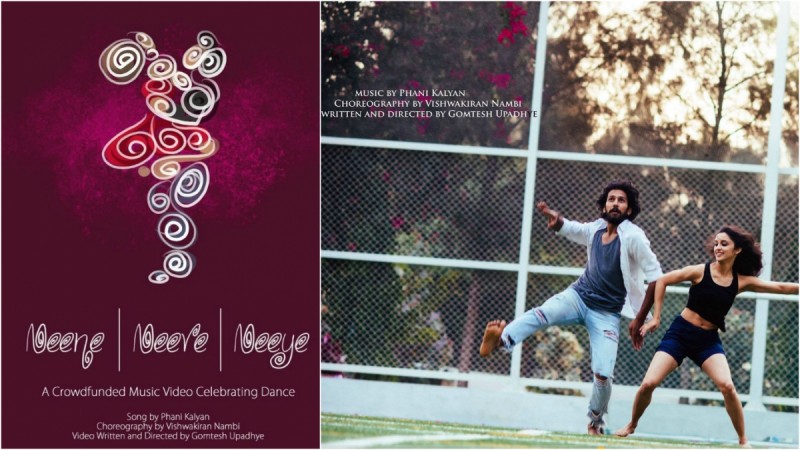 If dancing makes you feel refreshed and happy, then you should not miss the musical dance video directed by Gomtesh Upadhye as seeing it is sure to give you goosebumps. The seven-minute-23-second video, released in Tamil, Telugu and Kannada, sees the amazing dance performance of Shreya Deshpande and Niranjan Harish.
While its Tamil version has been titled Neeye, it is named Neene and Neeve in Kannada and Telugu. The musical video, choreographed by Vishwakiran Nambi, tells how two dancers, who begin dance rehearsal session together slowly fall in love. Yazin Nizar and Sharanya Srinivas have rendered their voice for the peppy number that is being composed by Phani Kalya.
The videos, released on October 9 on YouTube, have gone viral on social media and are collectively viewed more than seven lakh times, at the time of reporting. They also garner tremendous response from the audience including many celebrities.
Even director S S Rajamouli is all praise for the dance video and shared good words while sharing it on his Twitter handle. "Just saw this.. Very impressive... Great job, all involved [sic]," reads his tweet. Gomtesh has also shared that he got congratulatory calls from filmmakers Gautham Vasudev Menon and Rathish Ambat.
"Super thriller to have received a call from THE Gautham Menon!! Thank you sir for your kind words on the song and the video. We are on cloud 9 now [sic]," Gomtesh wrote on social media.
"Thank you Rathish Ambat sir!! Thrilled and humbled to have received a call and all the appreciation from you :) i know i am behaving like a school kid, but whatever :D Phani Kalyan Vishwakiran Nambi #neene #neeye #neeve [sic]," he posted on his Facebook page.
Check out here on how celebrities responded to the musical video:
Anupama Parameswaran
Can't stop myself from sharing this one....music - like an "earworm"... Their movements.... I am speechless.... Making Wanna see it go viral...and viral...A beautiful work....Neeveeee...
Neeraj Madhav
Amazing work...knowing that this is a crowd funded initiative I can imagine how much effort and pain is put into it. The result is just amazing
Shraddha Srinath
OH. MY. GOOD. GOD. Guys, please check out the following link to know what I'm talking about and before you know it, you will be gushing about it too. It's the musical dance video of a trilingual song called 'Neene/Neeye/Neeve' in Kannada, Tamil and Telugu respectively.

Gomtesh Upadhye and team - what is this magic? What is this ridiculous amount of talent! You guys are amazing. The video has left me stunned and I'm sure I'm only going to watch it a few thousand times before the servers crash. The choreography, the cinematography, the music. The whole feel of the video is lovely. The dancers are incredible! What chemistry! They were fluid. And who's the male dancer? Does he act in films? That look on his face when he says "Sorry". Uff. I died. Hahaha! Wishing the entire team all the best! ❤️

Rest of the janta - share and support!
Sanusha Santhosh
This has made me smile with all love I have...:) #Neeye #mustwatch #dedicated #love :) Kudos to the entire team! Wonderful work..:) (y)
Watch the musical videos in Tamil, Telugu and Kannada here:
-
-
-