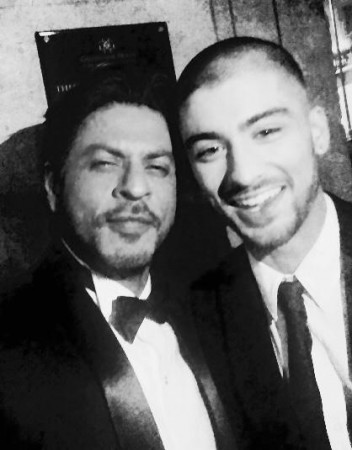 Twitter India confirmed on Friday that Shah Rukh Khan's selfie with former One Direction member Zayn Malik is the most retweeted photo on the social-networking site.
Twitter India posted: "Congrats @iamsrk, this selfie of yours is now the most Retweeted Tweet ever in India!"
The two stars met at the recently-concluded Asian Awards, held in London. While SRK was awarded with the title of Outstanding Contribution to Cinema, the blue-eyed boy received an award for Outstanding Contribution to Music.
The photo in question has close to 1,20,000 retweets and 1,70,000 favourites so far. Meanwhile, on Facebook, the post has received over 2 lakh likes.
"I say this very often that my stardom belongs to most South East Asians who reside abroad who have made the Indian cinema and me known around the world. I congratulate all the winners at the Asian Awards as well," Shah Rukh said, IANS reports. He then wrapped up his acceptance speech by specially congratulating Zayn.
In other news, the superstar has completed Maneesh Sharma's "Fan" and has kick-started Rahul Dholakia's "Raees". He will reportedly begin with Rohit Shetty's "Dilwale" in June.
Also, there's a strong buzz that SRK's "Dilwale" and "Fan" might release in a gap of 30 days. According to reports, the post-production work is progressing at rocket speed and the VFX team are hoping to wind up special effects work by stipulated deadline.
However, since there has been no official announcement by the YRF team as yet, this can be counted as a speculation.