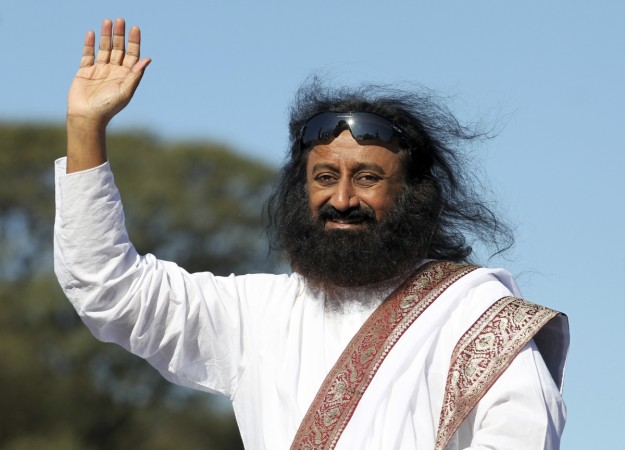 Muzaffar Wani, father of Hizbul Mujahideen terrorist Burhan Wani who was killed on July 8 triggering violence in Jammu and Kashmir, had a "humanitarian" meeting with spiritual guru and Art of Living founder Sri Sri Ravishankar at his ashram in Bengaluru on Saturday.
Sri Sri posted a picture with Wani on Twitter which said: "Muzaffar Wani, the father of Burhan Wani was in the ashram for the last two days. We discussed several issues."
The Art of Living Foundation also released a statement saying: "Certainly, Sri Sri and Wani discussed about the current situation, about the suffering and how peace and normalcy can be restored in the Valley. It was purely on a personal and humanitarian angle."
"I had gone there for treatment and stayed in the ashram to seek care for some 'ailment'... He (Sri Sri) did not ask me anything else. He just talked to me for five minutes or so at the most... I came back with some medicines for myself. That is all," Muzaffar Wani told reporters.
Burhan Wani's killing by the security forces in an encounter on July 8 in Jammu and Kashmir's Anantnag had triggered widespread protests and clashes between protesters and the security forces in the Valley, resulting in over 70 deaths and 11,000 injuries.
Wani, who joined the Hizbul Mujahideen in 2010 when he was just 15 years old, was well-known among the Kashmiri youth for posting pro-freedom videos on Kashmir on social media and was considered the "poster boy" of the terrorist organisation.
Muzaffar Wani, the father of Burhan Wani was in the ashram for the last 2 days. We discussed several issues. pic.twitter.com/IDyyxJSG83

— Sri Sri Ravi Shankar (@SriSri) August 27, 2016