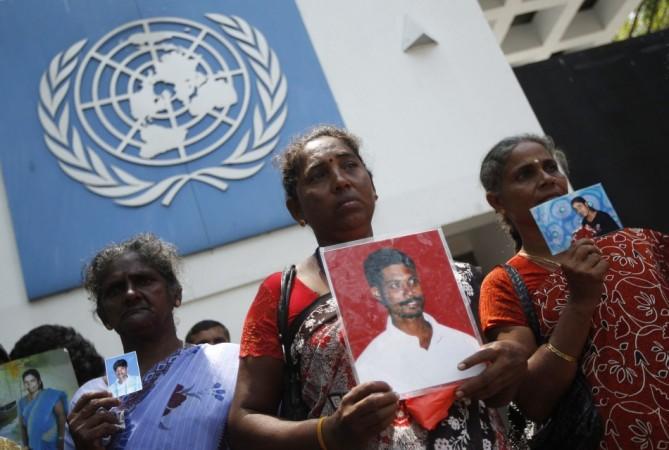 As expected, India on Thursday voted against Sri Lanka at the UN Human Rights Council (UNHRC) session in Geneva but the Dravida Munnetra Kazhagam (DMK) chief M Karunanidhi is still not happy with the way India handled it.
Twenty five countries, including India, voted in favour of the US-sponsored resolution against Sri Lanka, while 13 countries voted against it. The resolution was "to initiate credible and independent actions" and to promote reconciliation and accountability for the alleged crimes against the Tamil population in the war that ended in 2009.
DMK chief M Karunanidhi, whose party pulled out of the Congress-led UPA government over Sri Lankan Tamils' issue, said that he was not satisfied with India's response.
Despite voting against Sri Lanka, India didn't move any amendments to the resolution. New Delhi didn't seek for international inquiry against Sri Lanka though the DMK and the All India Anna Dravida Munnetra Kazhagam (AIADMK) demanded it besides inclusion of the words "Eelam" and "genocide" in the UN resolution.
"We stand by (the) domestic process that we have put into place that is credible and is transparent. What is important is to show results finally... we are quite confident that we'll be able to if evidence (is) needed is unearthed... we will be able to show clear progress, " Mahinda Samarasinghe, the Special Envoy of the Sri Lankan President on Human Rights, tolf NDTV.
"We call for effective and timely implementation of all the constructive recommendations contained in the LLRC report, including those pertaining to missing persons, detainees, disappearances and abductions, reduction of 'high security zones', return of private lands by the military and withdrawal of the security forces from the civilian domain in the Northern Province," said India's envoy Dilip Sinha at the UNHRC session in Geneva.
"We reiterate our call for an independent and credible investigation into allegations of human rights violations and loss of civilian lives. We urge Sri Lanka to take forward measures to ensure accountability."
Meanwhile, there were Parliament witnessed an adjournment till noon over two issues - Sri Lankan Tamils' issue and atrocities against pro-Telangana activists in Andhra Pradesh state. The DMK and the AIADMK disrupted the proceedings of both Lok Sabha and Rajya Sabha by protesting against the government, alleging that it failed to press for a strong resolution against Sri Lanka at the just concluded UNHRC session.