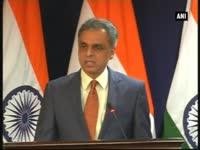 Maithripala Sirisena will be arriving at the New Delhi airport on Sunday, marking his first official international trip after taking charge as the Sri Lankan President. He will be meeting Prime Minister Narendra Modi during his four-day visit to India to discuss key issues to straighten out the bilateral relations between the two nations.
Sirisena is scheduled to hold talks with Indian leaders on 16 February, visit Buddhist pilgrimage site Bodh Gaya and the Tirupathi temple on 17 February. On 18 February, he will return to Sri Lanka, reports NDTV.
Having overthrown his predecessor and India's long-time nemesis Mahinda Rajapaksa, Sirisena's visit is coveted as the best time to strengthen bilateral ties between the two South Asian nations. Although he had endorsed Rajapaksa's 2009 military campaign against the Liberation Tigers of Tamil Eelam as a senior minister and as the general secretary of the Sree Lanka Freedom Party, his surprising decision to turn against the former made for an interesting election in January 2015.
According to Economic Times, there are even speculations that may have willfully schemed to ensure the fall of the authoritarian leader Rajapaksa. India has been vocal about its expectations regarding a more harmonious relationship with Sri Lanka ever since Sirisena's victory.
Ahead of his arrival, Sirisena spoke highly about the values of pluralism and democracy that both the nations share. The spokesperson for the External Affairs Ministry in New Delhi also said that all bilateral matters including economy, peace, and Sri Lankan reconciliation process would be discussed during his visit.
Sri Lanka's aim to strengthen the ties with India is quite evident; Foreign Minister Mangala Samaraweera had also marked his first foreign visit since assuming office last month by visiting India and holding talks with his counterpart Sushma Swaraj.
It was agreed then, that the two countries would re-engage in on repatriation of refugees from India.