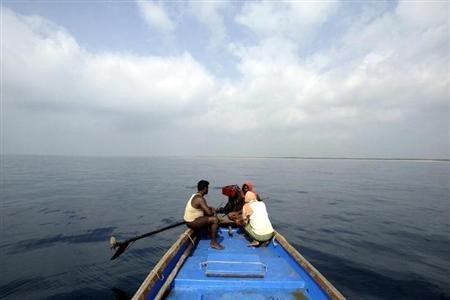 At least 22 fishermen from Jagadapattinam in Pudukottai district in Tamil Nadu were detained by the Sri Lankan navy, while fishing in the Palk Strait on Sunday.
The fishermen had reportedly ventured into sea in six boats from the town a day before and were scheduled to return on Sunday, before the Sri Lankan navy personnel arrested them for trespassing its territorial waters. They were immediately taken to Kangesanthurai Port, along with their boats, officials told PTI.
The arrests were made amid heightened pressure on the state and central governments to secure the release of over 220 Tamil Nadu fishermen detained in Sri Lanka, reported the news agency.
The island navy personnel had snapped fishing nets of another group of fishermen from the same district before chasing them away from near Katchatheevu, which India had given away to Sri Lanka in 1974.
The district has been witnessing some tension in the atmosphere as the fishermen community there has been demanding release of the 227 fishermen from Karaikal, Nagapattinam and Pudukottai districts during the past few months. They even went on a brief strike recently.
On Saturday, Prime Minister of India Manmohan Singh met a fishermen delegation from the state and the neighbouring area of Puducherry. The delegation advocated the release of their colleagues lodged in jails of the island nation and urged the PM to prevail on Sri Lanka.