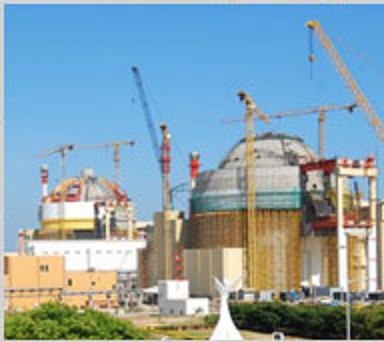 The controversial Kudankulam Nuclear Power Plant in Tamil Nadu has got into a fresh trouble, but this time from overseas.
In what is touted as a retaliation for India's support for US-backed resolution at United Nations Human Rights Council (UNHRC), the Sri Lankan government has targeted Kudankulam plant as it could hurt the island nation.
The Indo-Russian project that was engineered to meet security standards at international level was highly-protested by a few groups in Tamil Nadu. Agitating groups stirred up a revolt against the government's plans to launch Kudankulam plant fearing the Japan's Fukushima-type disaster.
However, after several months of hindrance, the state government took up the steps to proceed in the nuclear power projects that will have the capacity to produce 2000 MW power by two unites, thus making it one of the largest power plants in the world.
But now, the Kudankulam matter is likely to hit a fresh controversy as the Colombo has decided to take up the issues with International Atomic Energy Agency (IAEA) sessions that will be held this September.
"The issue about the South Indian nuclear plants was raised at the last IAEA sessions and that a request was made for the Agency to intervene in a disaster mitigating programme," said Power and Energy Minister Champika Ranawaka to ColomboPage, a web-based newspaper.
The minister added that the IAEA had proposed a mutual agreement on the matter should be reached between the two countries.
"We have sent a proposal to India through the External Affairs Ministry and the Indians have sent back a note on the matter," ColomboPage reported as Ranawakas saying.
The Sri Lankan government has decided to report IAEA over the safety of Kudankulam nuclear plant as the small island nation is merely separated by a stream of Ocean from where the three nuclear plants are located.
The wake of Colombo's move to supposedly fend off Fukushima-like crisis will only serve the interests of agitating mobs in Tamil Nadu that is allegedly funded by a few NRIs.
Meanwhile, Indian officials have said that Sir Lanka cannot sought any possible actions against nation's civil nuclear proliferation as there is no substance in the latter's concerns. Sri Lanka can make a statement noting its objection to the Kudankulam project at the IAEA meet. However, it's unlikely to trouble India's interest, said the sourses.
The news of the neighbour being dreaded about the possible nuclear radiation break out can defiantly fuel the already burning matter in Tamil Nadu.