Former Indian pacer Shanthakumaran Sreesanth was banned for life from playing cricket by the Board of Control for Cricket in India (BCCI) on 13 September, for his involvement in the Indian Premier League (IPL) spot-fixing scandal.
Sreesanth, 30, has been embroiled in several controversies during his volatile career. Here are some of the top controversies the former fast bowler was associated with.
During the 2010-11 India's South Africa tour, Sreesanth got into a heated argument with South African skipper Graeme Smith.
Though the spat was followed by Smith's dismissal leading to India's win, Sreesanth crossed the line and made lucid remarks at Smith and other South African players.
There was also another altercation between the two players in 2006. Sreesanth hold his best record 5-40 against South Africa in the game at Johannesburg, in December 2006.

Sreesanth, who is the third Indian bowler to have nailed five wickets in an innings two or more in South Africa, has been in bad terms with most of the South African players on field.
In one of the matches, he mocked and thanked Smith for "waking" him up to play better.
After Smith commented on the incident and said that Sreesanth was hard to control, Indian captain Mahendra Singh Dhoni assured him that such behaviour will not be repeated on the field.
During India's tour of Australia in 2007, Sreesanth drew attention after getting into a confrontation with Australian all-rounder Andrew Symond.
When Symond was dismissed at a crucial moment in a match, Sreesanth who was not even playing waited for the Austalian player to get inside the pavilion and then clapped in his face. He also passed lucid comments repeatedly during several matches of the same series.
Sreesanth later denied that he clapped in Symond's face. "I said to him, 'hard luck, you're going to lose now'. That's all," he said, reported Fox News.
Sreesanth was also seen arguing with Australian opener Matthew Hayden on several occasions. During the 2009 IPL, Hayden who was playing for Chennai Super Kings hit Sreesanth for three sixes. The former Indian fast bowler again lost his cool and bashed at the Australian opener.
Hayden described Sreesanth as an over-rated bowler and that he "always loses cool under pressure."
In the same year, BCCI issued a warning to Sreesanth stating that any repetition of such behaviour would result in a ban from domestic cricket.
During the inaugural session of IPL in 2008, Sreesanth was playing for Kings XI Punjab when he was slapped by Indian spinner Harbhajan Singh at the end of the match.
After the incident, Sreesanth was caught crying on cameras. According to reports, he had approached Singh saying "hard luck" which prompted the Indian spinner to slap him.
BCCI took disciplinary action against Bhajji. He was banned from playing the whole tournament and severely fined.
Later, both players were seen hugging each other and Harbhajan offered a public apology to Sreesanth.
On 16 May 2013, Sreesanth was arrested, along with two other players in connection with the IPL spot-fixing scandal.
Sreesanth, who was playing for Rajasthan Royals in the series, was accused of spot-fixing and was eventually arrested. He was granted bail by a Delhi Court stating that there are some missing links in the prosecution's case.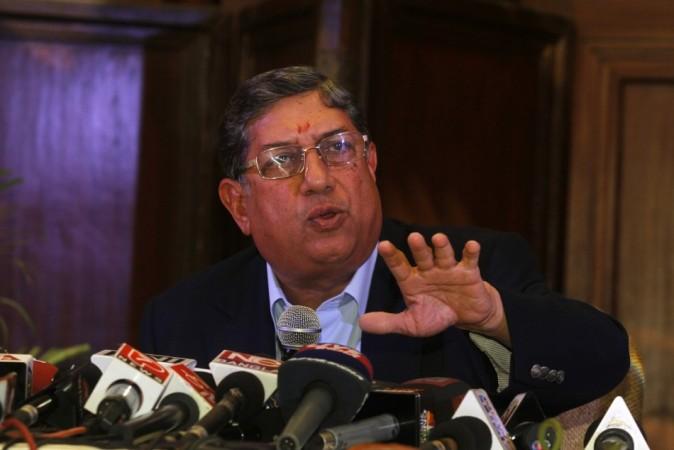 On 13 September, BCCI banned Sreesanth from playing cricket after finding him guilty in the spot-fixing scandal.
Sreesanth said he was innocent of all charges. His claims were supported by his family and a few others.
"You wait and see, the BCCI will soon cut a sorry figure because all what they did was to take out the Delhi police case version, as they ( BCCI) have a 'zero tolerance policy'," said the former Kerala Cricket Association secretary K. Ajith Kumar.