The wedding reception of SR Prabhu of Studio Green was held on Saturday evening, 14 June at a five-star hotel in Chennai. [Find More Photos Below]
The reception of SR Prabhu and Deepthi's marriage at Le Meridien was attended by their family members, friends, journalists and people from the film fraternity. Notable among them were actor Karthi, his father Sivakumar, actress Jyothika, director Dharani, journalist Nakkeeran Gopal etc.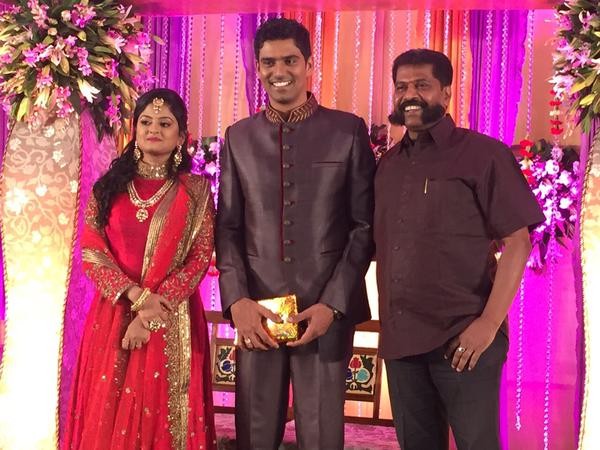 It was a grand event and the guests were reportedly happy with the arrangement made for them. Many had expected Suriya to attend the function, but he could not make it for some reasons.
The couple had tied the knot as per the Hindu rituals on Thursday, 4 June.
Director #Dharani @prabhu_sr #Deepthi wedding reception. pic.twitter.com/4eh0UGD6C5

— Johnson PRO (@johnsoncinepro) June 13, 2015
@PVPCinema team wishes @prabhu_sr n #Deepthi at reception held @ #LeMeridien hotel chennai pic.twitter.com/U7OP2vhWNR — Johnson PRO (@johnsoncinepro) June 13, 2015
Blissful moment for @prabhu_sr n #Deepthi as #Sivakumar sir #Karthi n #Jyothika wish at reception pic.twitter.com/UxWWOeAsiS

— Johnson PRO (@johnsoncinepro) June 13, 2015
#NakkeeranGopal at @prabhu_sr #Deepthi wedding reception pic.twitter.com/zBu0gDHSxy — Johnson PRO (@johnsoncinepro) June 13, 2015