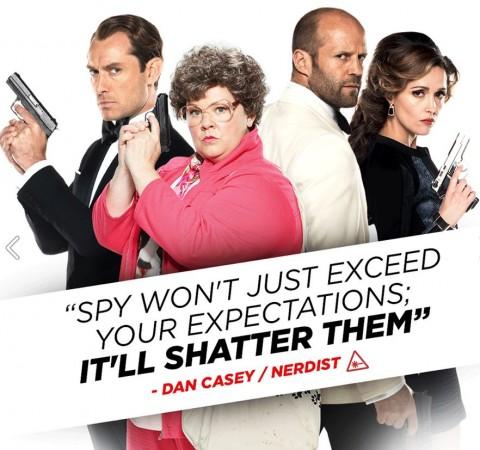 "Spy" star Melissa McCarthy thinks that her co-stars, the dashing Jude Law and the impressive Jason Statham, are both "bimbos" in the movie and she seems to love it.
In the Paul Feig movie, the veteran comedian plays CIA analyst Susan Cooper, who has remained in the background and became the eyes and ears behind her partnership with the suave, sophisticated and self-absorbed spy Bradley Fine (Jude Law). However, she gets thrown into an undercover investigation, which hopes to trap the ruthless and glamorous villain, Rayna Boyanov (Rose Byrne).
She also has another hot-shot spy Rick Ford (a surprising comedic performance by Jason Statham) breathing down her neck at all times. However, beating all odds, Susan does what she is hired to do, with great competence and brilliance, which is shockingly fresh for a comedy film.
Instead of making Susan a cartoonish character in the latest Fox Studios film, Feig made her strong and well-trained. "It was important to me that SPY wasn't a spoof. Paul and I agreed on that from the very start. Paul said: 'the action should look amazing, slick and fast and then we will make it funny on top of that.' That real sense of danger is what makes the audience really care about the characters," said the actress.
It is in fact, the male heroes in the film that are shown as a little inept and shallow. While Jude Law's Bradley is vain and self-absorbed to the point of oblivion, and Statham's Rick is blessed with the over-confidence to match his ego.
"Jason and Jude's characters are fantastic! So glamorous and tough, but let's be honest, they're the bimbos of the film, and I just love it!" she added, "It's such a great twist to have two men play it a bit more silly and let Susan's character rise to the top. By the end she realizes she doesn't need or want their approval and attention anymore, which is pretty great."
Statham's Rick makes the most ridiculous statements to prove his machismo and it is mighty hilarious to watch.
"I knew he was funny from 'Lock Stock and Smoking Barrels' and he is really, really funny in this film. I 'broke' a lot with him, I cracked up laughing and I rarely do that!" recalled McCarthy.