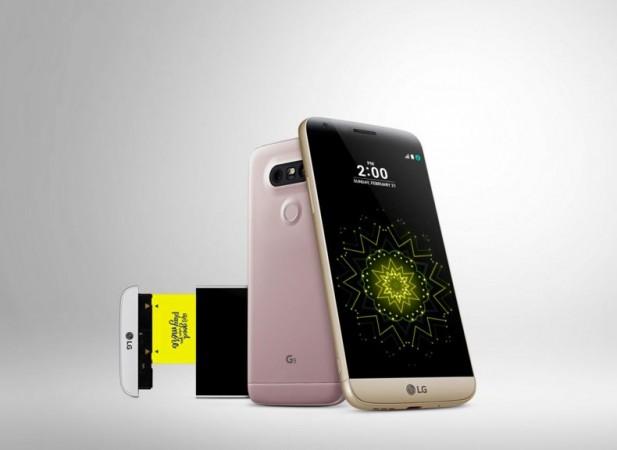 LG unveiled the G5 at the recent Mobile World Congress in Barcelona. The event also saw the preview of Samsung's flagship devices, the Galaxy S7 and Galaxy S7 edge, which have subsequently hit the stores. LG fans too won't have to stay for long without the much-awaited device, as the Sprint variant of the G5 is up for pre-orders in the United States and is set for launch next week.
Sprint has announced that online bookings for LG G5 will go live on Thursday, March 24, before it's released on April 1. Qualified Sprint customers can buy the device for $0 down (plus tax) and $24 per month for 2 years. Customers can also purchase the flagship device for $576 outright or for $149 with a 2-year contract after a $50 mail-in rebate.
The carrier also offers $150 credit and free accessory bundle comprising an extra battery, USB-C to Micro USB adapter and battery-charging cradle for those who trade in with a working smartphone.
The LG G5 is already up for pre-orders at AT&T. Both Verizon and AT&T are scheduled to release the handset on April 1, while T-Mobile is expected to launch it on March 29. It is also reported that U.S. Cellular will start pre-orders of the device on March 28 before launching on April 1, but the news is not confirmed yet.
The LG G5 is a metal-clad smartphone with a modular design. It sports a 5.3-inch QHD display with screen resolution of 2,560x1,440 pixels (554 ppi pixel density). It has a Qualcomm Snapdragon 820 processor, Android 6.0 Marshmallow, a 32GB internal memory (expandable up to 2TB via microSD card), and a 4GB RAM.
The next-generation handset from LG mounts dual rear cameras -- 16MP with f/1.8 aperture and 8MP with f/2.4 aperture. The camera features a 78-degree lens, a 135-degree wide angle lens, and OIS (Optical Image Stabilisation). The device also has an 8MP front-snapper and a 2,800mAh battery with Quick Charge 3.0 technology and Low Power Location Estimation (LPLE) Technology.