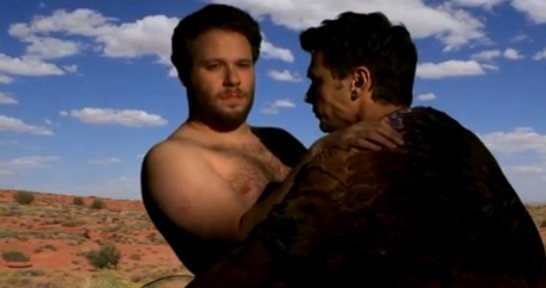 Actors Seth Rogen and James Franco, besties for some time now, took their 'bromance' to another level, parodying Kanye West's latest single "Bound 2", which features fiance Kim Kardashian.
The two have released a video that shows Seth baring his hairy back (imitating Kim of course!) and James rapping the hell out of the song (with due respect to Kanye). James is riding a bike, while Seth is clinging to him. Plus, there is the 'dry humping' too!
According to TMZ, the duo was 'inspired to recreate their new favorite music video, while filming a new flick called "The Interview"'.
The video, titled 'Bound 3' in all its explicitness, has gone viral on the internet and the hilarious clip has already gathered more than a million likes on YouTube!
Check out 'Bound 3' below:
This version of 'Bound 2' has got it bang on! Even Kim agrees. After the socialite saw the video, she tweeted the link and hailed Seth for such a fabulous job. Such a sport!
Seth replied too!
.@KimKardashian thanks! Some of those positions were really uncomfortable. That shit is harder than it looks.

— Seth Rogen (@Sethrogen) November 26, 2013

Although Kim is amused, no word on what Kanye has to say. The hot-blooded rapper is known to not take jokes lightly. Earlier, he bombarded Jimmy Kimmel on Twitter for making a spoof of his famous interview, where he refers to himself as the 'God of Rap', reports Daily Mail.
'Bound 2' is Kanye's latest and final single from his album 'Yeezus', which premiered on the famous 'Ellen DeGeneres Show'. Critics see it as Kanye's open love letter to Kim and think it is pretty neat.
"It's with the final track, Bound 2, which West wraps the album up in a neat bow. A love song to his long-desired muse Kim Kardashian, backed by the sort of grainy soul samples West hasn't really used in this way since Late Registration. The lyricism is the most upbeat and cheeky of any on the record, but at the same time it's the closest Kanye comes to stepping back into his apologetic shoes of old. Only this time, the only person he cares about placating is his Kardashian," Rapgenius.com opines.
Check out 'Bound 2' below: