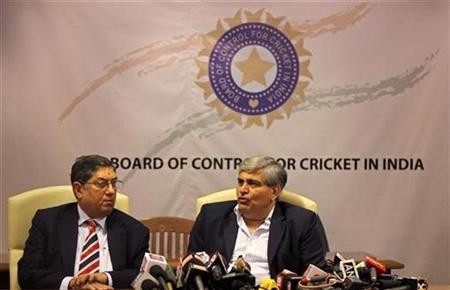 A few days after coming to the defence of Board of Control for Cricket in India (BCCI) chief N Srinivasan, Indian Premier League (IPL) Commissioner Rajeev Shukla has now advised him to step aside while the inquiry into the spot-fixing scandal is on.
N Srinivasan, who is also the owner of Chennai Super Kings (CSK), has been under pressure to step down as BCCI chief in the wake of the arrest of his son-in-law and CSK Team Principal Gurunath Meiyappan in connection with the spot-fixing scandal which took place during the recently concluded IPL.
"Srinivasan is an elected president. Arun Jaitley and I think he should keep himself away from this till the probe is completed. A probe panel has been formed. The majority view will be considered of those who are not from BCCI. Findings and recommendations should be implemented and not be sent to the BCCI. Two judges and one BCCI member will be a part of the probe panel," Rajeev Shukla told reporters after meeting BCCI Vice President Arun Jaitley.
Union Sports Minister Jitendra Singh also said on Wednesday that Srinivasan should resign as BCCI chief on moral grounds pending the outcome of the inquiry.
BCCI office-bearer Jyotiraditya Scindia said Srinivasan should step aside till the inquiry into the present spot-fixing scandal is over.
Former IPL Chairman Lalit Modi had earlier told a news channel that Sreenivasan should resign and CSK be scrapped to maintain credibility and integrity of the game.
Mumbai police arrested Gurunath Meiyappan last week after small-time actor Vindoo Dara Singh, who was arrested for his alleged links with bookies connected to spot-fixing, told the investigating team that he has been in touch with the CSK CEO for a few months.
"First a particular match was fixed, then Gurunath used to place huge bets on those matches," the Mumbai police Crime Branch told the court. Public prosecutor Wajid Sheikh said Meiyappan was in constant touch with Vindoo Dara Singh, who would tell bookies Pawan Jaipur, Jupiter and Sanjay Jaipur to place bets.
Mumbai Police Crime Branch (CB) Joint Commissioner Himanshu Roy later told reporters that Meiyappan had been placing bets through Vindoo for the last two years. He added that CSK Team Principal lost ₹1 crore from betting this IPL but gained most bets on matches involving his team.