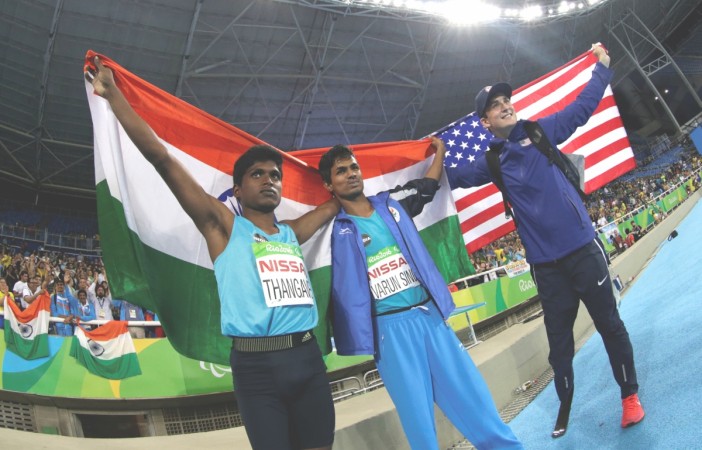 The Rio 2016 Olympics couldn't give us reasons to cheer at the start of the event, but the Paralympics 2016 has. On day 2 of the event, also being held at Rio de Janeiro, India bagged their first two medals of the game and the country can't get more proud. Two athletes jumped for glory in the high jump event and dear, did they come out successful.
Mariyappan Thangavelu, 20, who hails from a small village in Tamil Nadu, won the gold medal in the men's high jump T42 finals on Friday following a successful leap of 1.89m, while Varun Singh Bhati, 21, clinched the bronze in the event following a leap of 1.86m — a personal best.
Prime Minister Narendra Modi joined the millions of other Indians in congratulating the duo. The Sports Ministry also announced rich rewards for Mariyappan and Bhati. The two will get a cash prize of Rs. 75 lakh and Rs. 30 lakh, respectively.
"India is elated! Congratulations to Mariyappan Thangavelu on winning a gold & Varun Singh Bhati for the bronze at the Paralympics," tweeted PM Modi.
The Tamil Nadu government, led by Jayalalithaa, also announced Rs. 2 crore for Mariappan. "I was delighted to learn that Mariappan has won Gold Medal in Paralympics currently being held in Rio De Janeiro, Brazil," the Tamil Nadu chief minister and the AIADMK supremo was quoted as saying by ANI. "I understand that this is the first time an Indian has won a gold medal in the High Jump event in the Paralympics."
Disability notwithstanding, the fight to glory never ends and the message was given out straight by the duo. Mariyappan was left with permanent disability at an early age when a bus crushed his right leg, below the knee. Bhati, meanwhile, had polio.
"These Games will be our best ever performance. We know how we performed in the Olympics and now you will see how we perform in Paralympics. We all know the facilities given to Olympians and how many medals they got and we will see how our Paralympians perform," Gursharan Singh, vice-president of the Paralympic Committee of India, said to NDTV.
Twitter users from India were abuzz the entire Saturday morning as they woke up to one of the best news of the month.
Indian sports mein prerna ki kami nahin hai. Congrats Mariyappan Thangavelu aur Varun Bhati aapke gold aur bronze ke liye. [Translation: Indian sports doesn't lack inspiration in any way. Congrats Mariyappan and Varun for your respective medals]."
- Sakshi Malik, bronze medallist, Rio 2016 Olympics
The 'bar has been raised' & history has been created Mariyappan Thangavelu & Varun Singh Bhati u both hv made d nation proud [sic]"

- Anurag Thakur, BCCI president
Mariyappan Thangavelu's high jump gold at the Paralympics is stunning, inspiring and humbling."
- Harsha Bhogle, cricket expert
Mariyappan became the third Indian to win a gold at Paralympics, after Murlikant Petkar (Swimming, at Heidelberg 1972) and Devendra Jhajharia (Javelin Throw, at Athens 2004). India's overall medal tally in all Paralympic Games now stands at 10 – three gold, three silver and four bronze medals.
Watch Mariyappan's inspirational leap for glory here