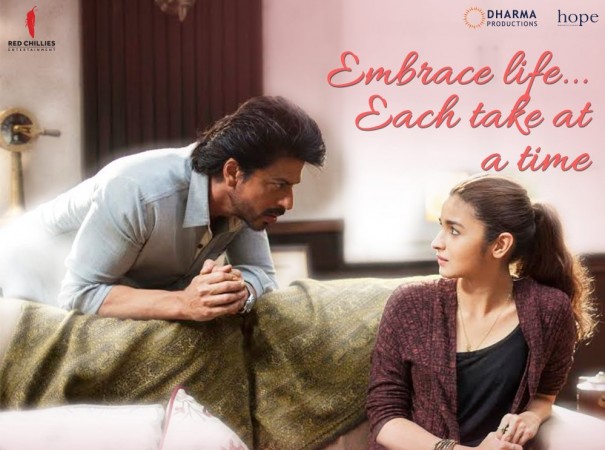 The much-talked about Alia Bhatt- Shah Rukh Khan starrer, Dear Zindagi, has finally hit the theatres and the movie is garnering many positive reviews from critics and viewers. Directed by Gauri Shinde, the two-and-half hour film shows Bhatt coming to terms that she needs a "Brain Doctor (BD)" in her journey of dealing with her mental troubles. Coming across Dr Jahangir Khan, played by Shah Rukh, at a mental health awareness conference, the 20-something cinematographer decides to reach out to the psychiatrist for help.
There are a number of concepts and topics Gauri Shinde is seen discussing, but here are some takeaways the movie has to offer:
Accept your problem and take help: The movie starts off with Bhatt and her friends making fun of one of their friends for visiting the BD. However, Bhatt realises that she is in an unstable mental condition and after many sleepless nights, decides to take help. Many youngsters or, for that matter, any individual in India feel that visiting a psychiatrist is a taboo. Coming to terms with depression, anxiety or panic is important and many international organisations, like World Federation for Mental Health, are encouraging people across the world to deal with their inner demons. And Dear Zindagi attempts to reach out to the younger generation and create awareness about the same.
It's alright to date more than one person: Through a concept termed of buying a Kursi (chair), explained by Khan in the movie, the director conveys that it is absolutely okay to date more than one person in order to find the right one. Not everyone is lucky to find their better half or their soul mates through their first relationship. Like buying a chair, where you see numerous factors before short-listing the right one, people need to see if the person chosen ticks all the check boxes of your life.
Fight your inner fears: In one of the therapy sessions, Kaira opens about her biggest fear in life. Giving her an ear, Khan suggests Kaira to never let the fear of the past blackmail her present and ruin a beautiful future. The simple statement conveys that people should never let the decisions or instances of the past haunt a person's present and future. The film also persuades viewers to confront their fears and analyse a way to deal with it.


Your actions affect your children, always: The movie has a parallel storyline focusing on the importance of parenting. At numerous junctures, Khan talks about little things that make people good parents. He talks about making good memories for your children to look back at. The film also highlights that a child is a lifelong responsibility and if one is not ready, they shouldn't get into it.
Keep it simple: You don't HAVE to take the hard way to reach your destination. Sometimes, the simpler path will help you reach your goal. It is not necessary to make yourself go through a hardship to achieve your dreams. It is okay to choose an easy option. Give yourself a break. And live in the moment. Love and prioritise your life.