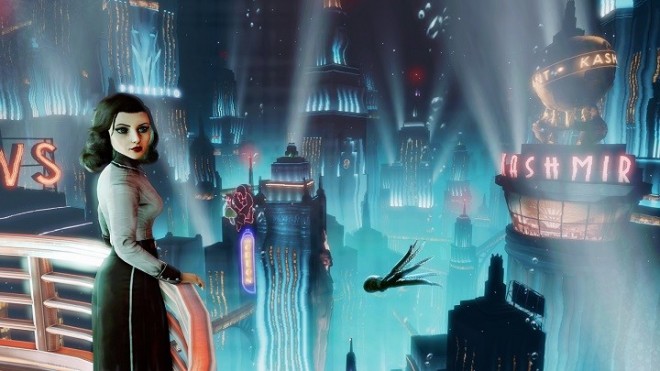 2K has released the list of achievements and trophies for the first episode of BioShock Infinite's downloadable content (DLC) Burial at Sea.
The studio has offered about 10 achievements with a total of 250 Gamescore that will be rewarded to the players who will be able to complete the story.
Burial at Sea DLC is set in the underwater city of Rapture on the eve of its fall. Booker Dewitt, the investigator is on his trails to search for answers on the disappearance of a young girl called Sally. The DLC also features Elizabeth and has been divided into two episodes, Episode 1 and Episode 2. The first one will not be featuring any combat but the second one will be having combat.
Rapture, according to developer Irrational Games is "a shining jewel at the bottom of the ocean, built almost entirely from scratch in the BioShock Infinite engine."
The DLC is part of the BioShock Infinite Season Pass and is also available for $14.99 (1200 MS Points). The DLC's release date has not been dated but is expected to be released by the end of 2013, VG247 reported. The DLC will be coming for PC, PlayStation 3 and Xbox 360.
Below is the list of Achievements/trophies for the DLC and a brief explanation (VG247):
Down in the Briney
Took a Bathysphere ride in Burial at Sea - Episode One.
XBL: 25 Points
PSN: Bronze
Burial at Sea
Completed Burial at Sea - Episode One.
XBL: 50 Points
PSN: Silver
Audio Enthusiast
Collected all Audio Diaries in Burial at Sea - Episode One.
XBL: 50 Points
PSN: Silver
Fully Equipped
Purchased any two upgrades for Old Man Winter or Radar Range in Burial at Sea - Episode One.
XBL: Ten Points
PSN: Bronze
Confirmed Luddite
Destroyed ten Turrets in Burial at Sea - Episode One.
XBL: Ten Points
PSN: Bronze
Cook and Serve
Made five enemies explode with the Radar Range in Burial at Sea - Episode One.
XBL: Ten Points
PSN: Bronze
Chain Reaction
Damaged 15 foes with an exploding enemy, using the Radar Range in Burial at Sea - Episode One.
XBL: 50 Points
PSN: Silver
Break the Ice
Shattered five enemies who had been frozen with Old Man Winter.
XBL: Ten Points
PSN: Bronze
Snowball Effect
Froze two enemies with the same Old Man Winter trap.
XBL: Ten Points
PSN: Bronze
Going Places
Rode the tram in Burial at Sea - Episode One.
XBL: 25 Points
PSN: Bronze
(YouTube Courtesy: IrrationalGames)